Publication:
Factores de riesgo de progresión hemorrágica de los hematomas intracerebrales traumáticos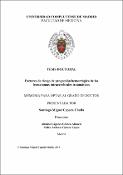 Files
Authors
Advisors (or tutors)
Editors
Publisher
Universidad Complutense de Madrid
Abstract
Los hematomas intracerebrales traumáticos (HICT) aparecen en un 13 al 35 % de losenfermos tras sufrir un traumatismo craneoencefálico (TCE)12,70. Creemos que pueden existir una serie de factores de riesgo involucrados en el crecimiento de los HICT. Dichos factores posiblemente implicados podrían ser: el mecanismo del trauma, las lesiones asociadas como el hematoma subdural agudo (HSDA), la presencia de múltiples HICT y la realización de una craniectomía descompresiva. Esta última posiblemente contribuya a la expansión de los hematomas debido al efecto de descompresión brusca y alteración de los gradientes de presión intra/extra craneal. La progresión hemorrágica (PH) de los HICT representa el motivo de intervención quirúrgica hasta del 20 % de los enfermos 77,110, de ahí la importancia de poder identificar de una forma precoz al grupo de pacientes que experimentará un aumento de volumen significativo de sus lesiones traumáticas intraparenquimatosas...
Traumatic intracerebral hematomas (TICH) appear in 13 to 35% of patients after suffering a traumatic brain injury (TBI) 12,70. We believe that may be exist a series of factors that could favor the growth of the TICH.These factors could be the mechanism of injury, associated injuries such as acute subdural hematoma (ASDH), the presence of multiple TICH and decompressive craniectomy. Decompressive craniectomy possibly contributes to the expansion of hematomas due to the effect of sudden decompression and alteration of the intra / extracranial pressure gradients. The hemorrhagic progression (HP) of the TICH represents the reason for surgical intervention up to 20% of the patients 77,110, hence the importance of being able to identify in an early way the group of patients that will experience a significant volume increase of their traumatic intraparenchymal lesions...
Description
Tesis inédita de la Universidad Complutense de Madrid, Facultad de Medicina, Departamento de Cirugía, leída el 11-10-2019
Collections