Publication:
Ultra-Compact Polarization Mode Converter Implemented in a Dual-Trench Silicon-On-Insulator Waveguide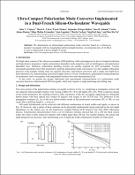 Authors
Villafranca Velasco, Aitor
Advisors (or tutors)
Editors
Abstract
We demonstrate an ultracompact polarization mode converter based on a silicon-on-insulator waveguide with two longitudinal subwavelength trenches. An extinction ratio of 16 dB at 1.5 μm is achieved for a device length of 10 μm.
Description
© 2012 OSA. Conference on Lasers and Electro-Optics (CLEO) (2012. San Jose, EE.UU.).
Citation
[1] J. Yamauchi, M. Yamanoue, and H. Nakano, "A short polarization converter using a triangular waveguide", Journal of Lightwave Technol. 26, 1708 (2008). [2] J. Zhang, T. Y. Liow, M. Yu, G. Q. Lo, and D. L. Kwong, "Silicon waveguide based TE mode converter", Optics Express 18, 25264 (2010). [3] D. Dai and J. E. Bowers, "Novel concept for ultracompact polarization splitter-rotator based silicon nanowires", Optics Express 19, 10940 (2011). [4] L. Liu, Y. Ding, K. Yvind, and J. M. Hvam, "Efficient and compact TE-TM polarization converter built on silicon-on-insulator platform with a simple fabrication processs", Optics Letters 36, 1059 (2011). [5] S. H. Kim, R. Takei, Y. Shoji, and T. Mizumoto, "Single-trench waveguide TE-TM mode converter", Optics Express 17, 11267 (2009). [6] B. M. Holmes and D. C. Hutchings, "Realization of a novel low-loss monolithically integrated passive waveguide mode converter", IEEE Photonics Technology Letters 18, 43 (2006).
Collections