Publication:
Objetividad y verdad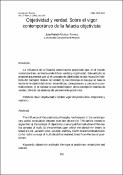 Advisors (or tutors)
Editors
Abstract
La influencia de la filosofía positivista ha propiciado que, en el mundo contemporáneo, se tienda a identificar verdad y objetividad. Este artículo se propone argumentar que: a) el concepto de objetividad es una reducción indebida del concepto clásico de verdad; b) las premisas en las que se basa la teoría de la objetividad no son axiomáticas, como parecen, y conducen a contradicciones; c) es necesaria una rehabilitación de la concepción realista de verdad, libre de las ataduras del pensamiento positivista.[ABSTRACT] The influence of the positivist philosophy has fostered, in the contemporary world, an equation between truth and objectivity. This article intends to argue that: a) the concept of objectivity is an unjustified reduction of the realist concept of truth; b) the premises upon which the objectivity theory is based are not —as seem to be— evident, and they lead to blatant contradictions; c) the realist concept of truth should be restored, freed from the ties of positivism.
Collections