Publication:
La «lingüística del humor» y el estudio de los juegos de palabras en la Biblia Hebrea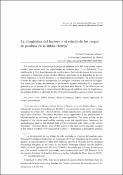 Authors
Advisors (or tutors)
Editors
Abstract
La verificación de la presencia de juegos de palabras en la BH es un asunto controvertido, pues varían entre los especialistas los criterios para: 1) su definición, 2) su clasificación y 3) el discernimiento de sus funciones. Este artículo repasa diversos acercamientos al fenómeno en los estudios bíblicos, incidiendo en la disparidad de los criterios empleados y de los términos y las clasificaciones resultantes. Se quiere mostrar el modo de operar biblista comparando sus enfoques y métodos con otros de la lingüística actual, por lo que, previamente, se presentarán algunos resultados de la lingüística generativa en el terreno de los juegos de palabras para ilustrar: 1) las diferencias en percepción, catalogación y caracterización del juego de palabras entre la lingüística y los estudios bíblicos y, derivado de ello, 2) mostrar un posible camino a seguir por estos.
Confirming the presence of wordplays in the BH is a controversial issue, since vary among specialists the criteria for 1) their definition, 2) their classification, and 3) the understanding of their functions. This article examines recent approaches to the phenomenon in biblical studies by reviewing the work of some specialists. The focus will be on the disparity of the criteria used and the resulting terms and classifications. Moreover, the methodologies used in the biblical field will be contrasted with others of the current linguistics. Therefore, firstly, some of the results of the most recent linguistic research in the field of wordplay will be presented to show: 1) differences in perception, cataloging and characterizing the wordplay between linguistics and Bible studies, and as a result, 2) a possible way forward for the latter.
Collections