Publication:
Las Reales Minas de Almadén (Ciudad Real) en la historia de la Geología y Paleontología españolas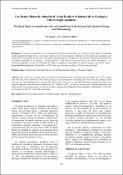 Advisors (or tutors)
Editors
Publisher
Sociedad Geológica de España.
Abstract
Se presenta la historia poco conocida de los fósiles encontrados en el interior de las minas de Almadén desde mediados del siglo XIX, y cómo éstos influyeron en el conocimiento y datación de los materiales geológicos que conforman el yacimiento de mercurio. El registro paleontológico se desglosa en un icnofósil ordovícico procedente de un bloque englobado en la llamada "piedra frailesca" (una brecha volcánica básica que rellena diatremas), y en diversos graptolitos y otros invertebrados del Silúrico temprano conservados en pizarras negras, uno de los cuales - Parapetalolithus hispanicus (Haberfelner, 1931)- tiene su estratotipo en el piso 12 de la mina principal.
The occurrence of some scarce fossils from the Almadén mines is known from the middle of the 19th Century and they had some influence in the early geological (mis)conceptions regarding the rocks and the geology of the mercury ore. Palaeontological record from the classic mine consists on a reworked Ordovician ichnofossil found in an eruptive diatreme body (the breccia-tuff known as "frailesca rock"), as well as various early Silurian graptolites and other marine invertebrates preserved in black shales, among which Parapetalolithus hispanicus (Haberfelner, 1931) has its stratotype in the12th Level of the main mine.
Collections