Publication:
El Derecho de las niñas y los niños a ser oídos y escuchados en los procesos judiciales.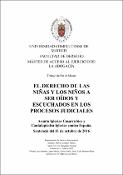 Authors
Advisors (or tutors)
Editors
Abstract
Este trabajo tiene como objetivo el estudio y análisis del Asunto Iglesias Casarrubios y Cantalapiedra Iglesias contra España ante el TEDH – sentencia del 11 de octubre de 2016 [Demanda n.º 23298/12]-, profundizando en el concepto de algunos de los derechos de los niños reconocidos en la Convención de Derechos sobre el Niño de Naciones Unidas y en las Observaciones Generales del Comité de la Convención, especialmente el derecho del niño a ser oído y escuchado en los asuntos que les afecten. Para ello, se examinarán los principios fundamentales que rigen la Convención y de qué manera se materializan en el derecho comunitario como en el derecho interno, que tendrán como finalidad última el interés superior del niño.
The objective of this paper is to study and analyze the Iglesias Casarrubios and Cantalapiedra Iglesias v. Spain case before the TEDH – Judgment 11 October 2016 [Application n.º23298/12]-, as well as to deepen the concept of some of the rights of children recognized in the Convention on the Rights of the Child, especially the right of the child to be heard and listened to in matters that affect them. To this end, the fundamental principles governing the Convention will be examined and how they are materialized in community law as well as in domestic law, which shall have the best interests of the child as their ultimate aim.