Publication:
El estadio ganglionar post-neoadyuvancia como factor pronóstico independiente del cáncer de recto localmente avanzado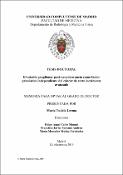 Files
Authors
Advisors (or tutors)
Muñoz Fernández, María Mercedes
Editors
Publisher
Universidad Complutense de Madrid
Abstract
El cáncer de recto localmente avanzado II- III (CRLA) se utiliza para designar al subgrupo clínico de tumores de recto que penetran a través de la pared rectal (cT3) y/o que presentan afectación de los ganglios linfáticos regionales (cN+). El tratamiento actual esta estandarizado y se basa en un enfoque multimodal que consiste en quimio-radioterapia neoadyuvante seguida de cirugía radical con escisión mesorrectal total y posteriormente quimioterapia adyuvante independientemente de la anatomía patológica.Justificación:Los pacientes con radio- quimio resistencia ganglionar tienen una biología de riesgo superior para recurrencia migrante regional y sistémica que requiere de un cambio en la estrategia terapéutica basada en la evidencia. Existen factores pronóstico que pueden guiara individualizar el abordaje terapéutico en pacientes con cáncer de recto persistente metastásico ganglionar post-neoadyuvancia (ypN+)...
Locally advanced rectal cancer II-III (LARC) is used to the designate a subgroup of rectal cancer which penetrates through the rectal wall (cT3) and/or with locoregional lymphnodes (cN +). The current standardised treatment is based on a multimodal approach consisting of neoadjuvant chemo-radiotherapy followed by radical surgery with total mesorectal excision, and adjuvant chemotherapy irrespective of final post-operative pathological stage. Justification: Patients with radio-chemo-resistance have a higher biological risk of recurrence of regional and systemic migration that requires a change in the evidence-based therapeutic strategy. There are forecasting factors that can guide the therapeutic approach in patients with persistent metastatic lymph node cancer after preoperative chemo-radiotherapy (ypN +)...
Description
Tesis de la Universidad Complutense de Madrid, Facultad de Medicina, Departamento de Radiología y Medicina Física, leída el 09-07-2019
Collections