Publication:
Métodos de evaluación de dosis y calidad de imagen en la nuevas tecnologías de mamografía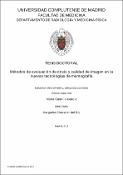 Files
Authors
Advisors (or tutors)
Editors
Publisher
Universidad Complutense de Madrid
Abstract
El cáncer de mama es el tumor más frecuente en la población femenina tanto en países desarrollados como en aquellos en vías de desarrollo. En España se diagnostican unos 26.000 casos al año, lo que representa casi el 30% de todos los tumores en la mujer en nuestro país. La mayoría de los casos se diagnostican entre los 35 y los 80 años, con un máximo entre los 45 y los 65. En España el cáncer de mama es el que más muertes produce al año entre las mujeres (más de 6000). La detección precoz del cáncer de mama es el objetivo de los programas de cribado poblacionales puestos en marcha en todas las comunidades de nuestro país. Estos programas se basan en la obtención de imágenes mamográficas (imagen de la mama por rayos X) por ser esta modalidad de imagen la que tiene una mayor sensibilidad para la detección precoz del cáncer. La mamografía convencional tiene ciertas limitaciones, como es la acumulación de toda la información del volumen en un plano. Esto provoca la superposición de estructuras pudiendo dar lugar al enmascarado de lesiones (falsos negativos) o a su simulación (falsos positivos). El desarrollo de detectores digitales para mamografía en los últimos años ha impulsado la aparición de nuevas modalidades de imagen de mama con rayos X como son la tomosíntesis, la tomografía computarizada de mama o las técnicas de realce de contraste...
Breast cancer is the most common tumor in the female population in developed and developing countries. There are 26,000 new cancer cases in Spain per year, representing almost 30% of all women`s tumors in our country. Most cases are diagnosed between the ages of 35 and 80, with a maximum between 45 years and 65 years. Breast cancer is the leading cause of cancer-related deaths among women, more than 6000 a year in Spain. Early detection of breast cancer is the goal of population screening programs. These programs are based on mammographic images (X-ray breast imaging) as it is demonstrated its higher sensitivity for the detection of early-stage breast cancer. Conventional mammography has limitations due to full breast volume is projected in a plane. This causes the overlapping of breast tissue, which can obscure important features of malignancy (false negatives). Overlapping tissue is also a frequent cause of false-positive findings. Advances in the development of digital detectors have led to the development of new breast imaging modalities in recent years such as breast tomosynthesis, dual energy contrast-enhancement or breast TC...
Description
Tesis inédita de la Universidad Complutense de Madrid, Facultad de Medicina, Departamento de Radiología y Medicina Física, leída el 06/06/2017
Collections