Publication:
Problemática de la verificación del principio de empresa en funcionamiento en la auditoria externa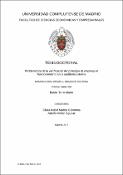 Files
Authors
Advisors (or tutors)
Editors
Publisher
Universidad Complutense de Madrid
Abstract
La aplicación del principio de empresa en funcionamiento es un tema que inspira mucho respeto y su evaluación supone una gran responsabilidad por parte del auditor externo pues conlleva un alto grado de dificultad el poder medir, valorar y opinar sobre el negocio en marcha de la empresa analizada. Por otro lado, el entorno de escepticismo creado hacia la profesión auditora, debido a los escándalos financieros y a las crisis empresariales surgidas en los últimos años ha generado una serie de inquietudes que derivan en dos cuestiones: • ¿Las normas de auditoría contienen suficientes herramientas para medir las situaciones de insolvencia? • ¿Pueden ser útiles las herramientas de predicción de insolvencia para evaluar el principio de empresas en funcionamiento? La búsqueda de respuestas a estas preguntas, nos ha motivado a profundizar en el estudio del marco normativo existente que es el que aplica el profesional de la auditoría. Por ese motivo el objeto del presente trabajo de investigación es analizar el grado de calidad en la aplicación del principio de empresa en funcionamiento por parte del auditor externo en España en el actual contexto de crisis económica, e intentar evaluar si el uso de herramientas como los predictores de insolvencia podrían ayudar al auditor reforzando las evidencias...
The going concern basis is a topic that inspires a lot of respect and it́s assessment represents a huge responsibility for the external auditor given the high degree of difficulty involved in the measurement, valuation and issue of an opinion on the going concern of the audited company. On the other hand, the environment of skepticism created around the auditing profession due to the financial scandals and the business crises encountered over recent years has led to a number of concerns that result in two issues: • Do auditing standards contain enough tools to measure insolvency? • Could predictors of bankruptcy be a useful indicators to assess the going concern assumption? The search of answers to these questions has encouraged us to further research the existing regulatory framework applied by the auditing profession. For this reason, the purpose of the present research paper is to analyze the level of quality in the application of the going concern principle carried by the external auditor in Spain in the current context of global economic and financial crisis, and to try to evaluate if the use of tools such as predictive models could assist auditors to reinforcing the evidences...
Description
Tesis inédita de la Universidad Complutense de Madrid, Facultad de Ciencias Económicas y Empresariales, leída el 18/01/2016
Collections