Publication:
Avoiding ergodicity and turbulence in R-3 vector fields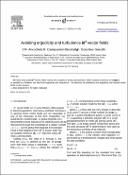 Files
Advisors (or tutors)
Editors
Abstract
We show that analytic R-3 vector fields having the property of being transversal to either analytic functions or foliations F-2, or parallel. to a foliation, are free from ergodicity and turbulence. The absence of turbulence and ergodicity via induced vector fields is also proven.
Citation
E. Coddington, N. Levinson, Theory of Ordinary Differential Equations, McGraw–Hill, New York, 1990; P. Hartmann, Ordinary Differential Equations, Wiley, New York, 1964; S. Wiggins, Introduction to Applied Nonlinear Dynamical Systems and Chaos, Springer, New York, 1990. J. Palis, W. Melo, Geometrical Theory of Dynamical Systems, Springer, Berlin, 1977. A. Parusinski, P. Pragarz, J. Algebraic Geom. 4 (1995) 337; S. Lenci, R. Lupini, Z. Angew. Math. Phys. 47 (1996) 97; R. García, A. Nemethy, Compositio Math. 100 (1996) 205; A. Nemethy, J. London Math. Soc. 59 (2) (1999) 922. G. Aitken, Mathematical Methods for Physicists, Academic Press, Orlando, 1985. J. Eckmann, Rev. Mod. Phys. 53 (1981) 643; E. Ott, Rev. Mod. Phys. 53 (1981) 655; T. Talor, J. Wein, Phys. Rev. A 24 (1981) 2157; C. Sparrow, The Lorenz Equation: Bifurcations Chaos and Strange Attractors, Springer-Verlag, Berlin, 1982; J. Eckmann, Rev. Mod. Phys. 57 (1985) 617; I. Hovelin, F. Verhulst, Physica D 44 (1990) 397; T. Sen, M. Tabor, Physica D 44 (1990) 313; B. Hassard, J. Zhang, S. Hasting, W. Troy, Appl. Math. Lett. 7 (1994) 79. V. Arnold, CRAS (Paris) 261 (1965) 17; M. Henon, CRAS (Paris) 262 (1966) 312; T. Dombre, V. Frisch, M. Henon, A. Mehr, A. Soward, J. Fluid Mech. 167 (1986) 353; O. Troshkin, Russian Math. Surveys 43 (1988) 153; Z. Yoshida, J. Math. Phys. 33 (1992) 1252; J. Sprott, Phys. Rev. E 50 (1990) 647; J. Sprott, Phys. Lett. A 228 (1997) 271; J. Sprott, Amer. J. Phys. 65 (1997) 537; J. Sprott, Amer. J. Phys. 68 (2000) 758; S. Zighin, J. Funct. Anal. Appl. 30 (1996) 137; W. Arnold, B. Khesin, Topological Methods in Hydrodynamics, Springer, New York, 1998; A. Gilbert, S. Children, Phys. Rev. Lett. 65 (1990) 2133. W. Hoover, Phys. Rev. E 51 (1995) 759. S. Linz, Am. J. Phys. 65 (1997) 523; S. Linz, Phys. Rev. E 58 (1998) 7151; S. Linz, Phys. Lett. A 259 (1994) 240; R. Eichorn, S. Linz, P. Hänggi, Phys. Lett. A 275 (2000) 204. H. Gottlieb, Am. J. Phys. 64 (1996) 525; H. Gottlieb, Am. J. Phys. 66 (1998) 903. Z. Fu, J. Heidel, Nonlinearity 10 (1997) 1289. J. Strelcyn, S. Wojciechowski, Phys. Lett. A 133 (1998) 207. [12] R. Abraham, J. Marsden, Foundations of Mechanics, Benjamin, London, 1978. V. Arnold, Singularidades de Cáusticas y Frentes de Onda, Rubiños, Madrid, 2000. W. Panosky, M. Phillips, Classical Electricity and Magnetism, Addison–Wesley, Reading, MA, 1962. R. Palais, A Global Formulation of the Lie Theory of Transformation Groups, in: Memoirs American Mathematical Society, Vol. 22, American Mathematical Society, Providence, RI, 1957. C. Camacho, A.L. Neto, Geometric Theory of Foliations, Birkhäuser, Boston, 1985. G. Hector, U. Hirsch, Introduction to the Geometry of Foliations, Vieweg, Braunschweig, 1986; A. Haefliger, Colloque de Topologie de Strasbourg, 1955; A. Haefliger, Commun. Math. Helv. 32 (1958) 249. C. Camacho, Bol. Soc. Basil. Mat. 5 (1) (1974) 11. S. Chandrasekhar, P. Krendall, Astrophys. J. 126 (1957) 457; H. Moses, SIAM J. Appl. Math. 21 (1971) 114; H. Moses, J. Math. Phys. 25 (1984) 1905; P. Constantin, A. Majda, Commun.Math.Phys.115(1988) 435; F.G. Gascón, D. Peralta, Phys. Lett. A 292 (2001) 75. Y. Choquet-Bruhat, C. de Witt, M. Dillard, Analysis, Manifolds and Physics, North-Holland, Amsterdam, 1977
Collections