Publication:
Nanosystems for ophthalmic drug delivery in the treatment of chronic and inflammatory pathologies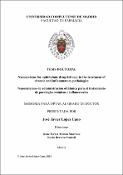 Files
Authors
Advisors (or tutors)
Editors
Publisher
Universidad Complutense de Madrid
Abstract
Chronic ocular diseases that involve inflammatory conditions affects both the anterior and posterior segments of the eye, which in many cases lack of effective and well tolerated treatments at the same time. These types of pathologies can be subdivided into two welldifferentiated groups: those induced by inflammatory processes that end up developing a vicious cycle, such as uveitis or conjunctivitis, and those generated by pathophysiological transformations, or modifications that evolve towards inflammatory and degenerative processes. This last instance would be the case of prevalent pathologies such as dry eye disease (DED) and glaucoma. In DED, changes on the ocular surface occur such as tear evaporation, change in the lipid or aqueous profile of the precorneal tear film among others. Meanwhile, in glaucoma a damage in the nervous fibers of the retina is produced associated in most cases to an IOP increment. In both cases a chronic inflammation is induced giving rise rise to chronic and degenerative processes of both the anterior segment (fibrosis, abrasion, corneal ulcerations, and vision loss) and the posterior segment of the eye (neuroinflammation, excitotoxicity and retinal neurodegeneration). In fact, there is growing evidence about the relation between neurodegenerative diaseases and inflammatory events...
Las enfermedades oculares crónicas, que cursan con inflamación, afectan tanto al segmento anterior como al posterior y, en muchas ocasiones carecen de tratamientos quesean efectivos y que al mismo tiempo resulten bien tolerados. Este tipo de patologías se pueden dividir en dos categorías bien diferenciadas: aquellas inducidas por eventos inflamatorios que acaban generando un círculo vicioso, como la uveítis o la conjuntivitis, y las generadas por transformaciones o modificaciones fisiopatológicas que evolucionan hacia procesos inflamatorios y degenerativos. Esta última categoría sería el caso de patologías prevalentes como la enfermedad de ojo seco (EOS) y el glaucoma. En la EOS se producen, entre otros procesos, evaporación de la lágrima y/o alteraciones en el perfil lipídico o acuoso de la película precorneal. En el glaucoma se produce un daño en la capa de fibras nerviosas de la retina que se asocia, en la mayoría de los casos, a un aumento dela presión intraocular (PIO). En ambos casos se genera gradualmente una inflamación crónica, dando lugar a procesos degenerativos tanto del segmento anterior (fibrosis, abrasión y ulceraciones corneales) como posterior (neuroinflamación, excitotoxicidad y otros procesos neurodegenerativos de la retina). De hecho, cada vez hay más evidencia de que las enfermedades neurodegenerativas se asocian a eventos inflamatorios...
Description
Tesis inédita de la Universidad Complutense de Madrid, Facultad de Farmacia, leída el 14-07-2022
Collections