Publication:
Estudio mediante simulación numérica de unión heterogénea acero de alta resistencia-metal duro aplicando soldadura fuerte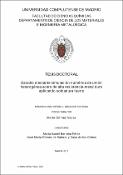 Files
Authors
Editors
Publisher
Universidad Complutense de Madrid
Abstract
Los aceros para herramientas se caracterizan por tener una alta dureza y una alta resistencia, por ello, estos aceros suelen ser utilizados en la fabricación de herramientas de corte. Debido a que no existe ningún tipo de acero para herramientas en el cual se combinen todas las propiedades requeridas, los carburos cementados se presentan como un interesante complemento. De este modo, los cermets usados en la fabricación de herramientas se van a encontrar, de un modo u otro, soldados al acero del cuerpo de la herramienta. Debido a las tensiones residuales y defectos en la microestructura que se originan en el enfriamiento tras estos procesos, se descarta la posibilidad de usar técnicas de soldadura que impliquen fusión de los materiales. Este problema se solventa con el empleo de procesos de unión en estado sólido, como es el caso de la soldadura fuerte. Las tensiones residuales generadas en el enfriamiento de la junta de unión debido a la diferencia de propiedades entre los materiales a unir, pueden provocar pérdida de fortaleza estructural y llegar a provocar fractura. Para poder prevenir las posibles causas de estos fallos es una necesidad prioritaria evaluar, previamente al diseño de estas uniones, la magnitud y distribución de la tensión residual y los factores que la influyen. Los métodos de simulación numérica combinados con métodos experimentales han sido ampliamente empleados para el análisis y diseño de estructuras metálicas. La aplicación del método de elementos finitos (MEF) en la predicción de tensiones residuales y deformación de los componentes generadas tras el proceso de soldadura, es un procedimiento muy útil para poder explicar algunos de los complejos fenómenos que tienen lugar en las uniones soldadas y para poder predecir con más exactitud dónde se producirá el inicio de fractura. De este modo, el empleo de estos métodos numéricos puede llegar a jugar un importante papel en el desarrollo e innovación del diseño y optimización de uniones soldadas...
The advantages of tool steel are its mechanical resistance and hardness. These steels are used the manufacture of cutting tools. Because no single tool material combines all of the required properties, an important challenge in the design and processing of engineering materials is to combine incompatible properties of materials in the same component. One of the materials that could complement tool steels may be cermets. Cemented carbides used in tool making are mostly joined in one way or another to a steel tool blank. The different thermal stresses during the cooling step of this process and the damage to the microstructures in the materials rule out the possibility of using fusion welding techniques. To overcome these problems, bonding processes in solid state, such as brazing, are used. Residual stresses are generated in a brazed joint due to the material mismatch between materials, which can decrease the structural strength and finally fracture. In order to prevent the possible root causes of these fails, it is deemed necessary to estimate the magnitude and the distribution of the residual stress and discussing the influencing factors on the early design of these dissimilar joints. Numerical simulation methods combined with experiments have been widely used for the analysis and design of metal structures. The application of finite element methods (FEMs) to predict postjoint residual stresses and final distortion of the component can be used to explain some complex phenomena in joint processes and can result in considerable advances in the design and parameter optimization of joint structures...
Description
Tesis inédita de la Universidad Complutense de Madrid, Facultad de Ciencias Químicas, Departamento de Ciencia de los Materiales e Ingeniería Metalúrgica, leída el 08/02/2016
Collections