Publication:
Los dueños de las empresas de comunicación y la utilización política de los medios en Brasil: el caso de los estados Bahía, Ceará y Río Grande del Norte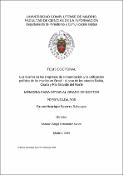 Files
Authors
Advisors (or tutors)
Editors
Publisher
Universidad Complutense de Madrid
Abstract
La relación de proximidad entre medios de comunicación y poder político en Brasil proviene de los primeros años de la fundación de la prensa, pasando por un período que acompaña la tendencia mundial de "prensa partidista" en defensa de una causa o ideología. La proximidad entre el poder político y los medios avanzan con la apertura de la exploración de las concesiones públicas de radio y, posteriormente, de televisión. Con el surgimiento de los medios audiovisuales, Brasil adoptó un modelo similar a lo de Estados Unidos, es decir, de exploración de la señal pública por grupos privados. Sin embargo, diferente de EE. UU., el gobierno brasileño además de utilizar políticamente la radio a su favor no ha demostrado preocupación con la formación de posibles oligopolios en la comunicación. En Brasil, donde ya existía el monopolio de los Diários Associados, ha sido generada una concentración en el sector, por veces con la ayuda del gobierno y otras por su omisión. La distribución las concesiones de radiodifusión ha seguido criterios más políticos que económicos, siendo otorgadas a grupos aliados con el poder político vigente y, por lo tanto, sin criterios sociales, distribución ecuánime que visase diversidad en la propiedad y generase pluralidad informacional, además de equilibrio económico entre los grupos competentes...
The close relationship between the media and the political power in Brazil is rooted in the early years of formation of the press, followed by a period of adjustment to the global trend of "political press" in terms of its defense of a cause or ideology. With the beginning of the radio services political powers take over the radio broadcasting for their own agenda. The same happened with the television in its different phases. Brazilian public broadcasting is largely based on the North American model, however, unlike the United States, the national government of Brazil has shown no concern over the formation of oligopolies in communication. While in the US a number of mechanisms were created to create competition among the three main media groups in that phase, in Brazil a concentration was generated in the sector, either with the support of the government or by their omission. The distribution of the audiovisual spectrum was based on a more political than economic approach, allowing grants to groups that had the financial conditions to develop the technology but were allies to the political power and failing to consider the social aspects, the equitable distribution which would allow for diversity in ownership and media bias and, also, the economic balance between competing groups.
Description
Tesis de la Universidad Complutense de Madrid, Facultad de Ciencias de la Información, Departamento de Periodismo y Comunicación Global, leída el 16-05-2018
Collections