Publication:
El Borrador de Acuerdo de Retirada del Reino Unido y los litigios en materia mercantil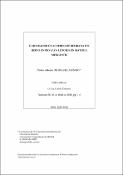 Authors
Advisors (or tutors)
Editors
Abstract
La incertidumbre con respecto al marco futuro de las relaciones entre la Unión Europea y el Reino Unido se mantiene. No obstante, la publicación el 28 de febrero de 2018 por parte de la Comisión del Borrador de Acuerdo de Retirada permite conocer las previsiones de la Comisión en lo relativo a la terminación de la aplicación de los instrumentos existentes en el sector de la cooperación jurídica internacional en materia civil y mercantil. Entre esos instrumentos en el ámbito mercantil revisten especial interés los Reglamentos Roma I y Roma II sobre ley aplicable, el Reglamento Bruselas I bis en materia de competencia judicial y reconocimiento de resoluciones, así como el Reglamento sobre procedimientos de insolvencia.
Uncertainty remains about the future relationship between the UK and the EU. However, the publication of the European Commission Draft Withdrawal Agreement on 28 February 2018 sheds light on the Commission's position on the application of the provisions of EU law on jurisdiction, choice of law, and recognition and enforcement of judgments to proceedings in civil and commercial matters pending on the withdrawal date. The applicability of the existing instruments to choices of forum and choices of law made prior the withdrawal date receive also particular attention. The instruments considered include the Rome I, Rome II, Brussels I (Recast) and Insolvency Regulations.
Collections