Publication:
Regionalismo e integración en América Latina: balance y perspectivas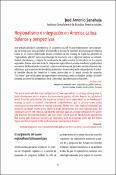 Authors
Advisors (or tutors)
Editors
Publisher
AECID (Agencia Española de Cooperación Internacional para el Desarrollo)
Abstract
Este artículo aborda el surgimiento y las características del "nuevo regionalismo" como estrategia de integración para promover el desarrollo y mejorar la inserción internacional de América Latina en un mundo globalizado. Desde comienzos de los noventa, la región ha adoptado el "regionalismo abierto" como una estrategia de desarrollo, con el objetivo de mejorar su competitividad internacional, y mejorar la coordinación de las políticas entre los miembros de los grupos regionales. Quince años más tarde, la integración regional ha alcanzado resultados significativos en materia de liberación comercial, y comercio intrarregional, pero aún persisten barreras significativas, que perjudican los beneficios potenciales de una integración más profunda. El articulo también discute los beneficios y los costes potenciales de la actual oleada de acuerdos "Sur-Norte" que varios países latinoamericanos están negociando con los Estados Unidos y la Unión Europea, así como las perspectivas de la Comunidad Sudamericana de Naciones.
This article deals with the durge and features of "new regionalism" as strategy of integration to foster development and to improve the international position of Latin America in a globalized world. From the early nineties, the region has adopted "open regionalism2 as an development strategy, in order to improve international competitiveness and to achieve better policy coordination among members of regional groupings. Fifteen years later, regional integration has achived significant results in the realm of trade liberalization and intra- regional trade, butsignificant barriers still remains, harming the potencial gains of a deeper integration. The article also discusses the potential benefits and cost of the current wave of "North- South" agreements that several Latin American countries are negotiating with the European Union and the United States, and the propects of the South American Community of Nations.
Collections