Publication:
Impacto social de los programas de doctorado de las universidades latinoamericanas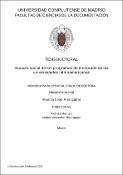 Authors
Advisors (or tutors)
Villaseñor Rodriguez, Isabel
Editors
Publisher
Universidad Complutense de Madrid
Abstract
Los programas doctorales en Latinoamérica desempeñan un papel fundamental en el desarrollo de investigación en un contexto local, nacional, regional e inclusive internacional, gracias a la naturaleza investigativa de programas académicos que los lleva a develar fenómenos sociales, naturales, científicos, entre otros. En la última década, el auge por la apertura de los programas doctorales ha estado presente en las universidades de la región latinoamericana; también, la consolidación de programas de cooperación entre universidades e instituciones, quienes buscan promover e impulsar la investigación en la región. Teniendo en cuenta el auge de la educación superior en Latinoamérica, y los cambios de modelo universitario, esta investigación pretende contribuir a las universidades un estudio del desempeño social de los programas de doctorado de la región. Es decir, lo que se analizó en esta tesis son las condiciones del impacto de la investigación doctoral, y todo aquello que repercute al desarrollo y calidad de vida a partir del conocimiento producido y aportado en Latinoamérica. Asimismo, revisó las condiciones de impacto social puestas en manifiesto como características inherentes de los programas doctorales con potencial a derivar en impacto social...
The doctoral programs in Latin America plays an important role in the development of research in a local, national, regional and even international context, thanks to the investigative nature of academic programs that lead them to unveil social, natural and scientific phenomena, among others. In the last decade, the boom for the opening of doctoral programs has been present in universities in the Latin American region; also, the consolidation of cooperation programs between universities and institutions, which seek to promote and drive research in the region. Considering the rise of higher education in Latin America, and the changes in the university model, this research aims to contribute to the universities a study of the social performance of doctoral programs in the region. In other words, what was analyzed in this thesis are the conditions of the impact of doctoral research, and everything that affects development and quality of life based on the knowledge produced and contributed in Latin America. Likewise, it reviewed the conditions of social impact revealed as inherent characteristics of doctoral programs with the potential to lead to social impact...
Description
Tesis inédita de la Universidad Complutense de Madrid, Facultad de Ciencias de la Documentación, leída el 17/11/2020
Collections