Publication:
Diseño y validación de un cuestionario sobre la forma de trabajo de los instructores de clases colectivas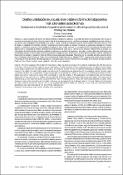 Authors
Advisors (or tutors)
Editors
Abstract
La actual expansión del número de centros de fitness en España ha conllevado un aumento del número de profesionales, entre los que se encuentran los instructores de clases colectivas. Ante la falta de herramientas para conocer las diferentes estrategias metodológicas que éstos utilizan en sus sesiones, esta investigación se ha planteado como objetivo diseñar y validar un cuestionario que nos permita obtener información sobre su forma de trabajo. La validación del contenido, redacción y pertinencia de los ítems creados se consiguió a través de las valoraciones realizadas por 14 jueces expertos. La validación externa se obtuvo mediante la aplicación de la prueba test-retest a una muestra de 62 instructores de diferentes centros deportivos de la Comunidad de Madrid, administrando la herramienta dos veces con un intervalo de dos semanas. Posteriormente, se procedió a la comprobación de la fiabilidad del cuestionario mediante el coeficiente de correlación de Spearman; y para saber si existían diferencias significativas entre las respuestas dadas por el mismo sujeto se utilizó la prueba de los rangos con signo de Wilcoxon. Los ítems que no se pudieron clasificar mediante una Escala Likert se estudiaron mediante el índice de McNemar para proporciones relacionadas. Finalmente, con los resultados obtenidos, podemos afirmar que el Cuestionario sobre la Forma de Trabajo de los Instructores de Clases Colectivas, en adelante CFTICC, dispone de los niveles óptimos de validez y fiabilidad, de forma que ofrece suficientes garantías en su utilización para el conocimiento de la forma de trabajo de los técnicos de clases colectivas.
The current expansion in the number of fitness centers in Spain has led to an increase in the number of professionals who offer their services in this sector. Instructors of fitness classes are among these workers. Considering the lack of tools in this area of study, the objective of this research was to design a questionnaire, and determine their validity and reliability, in order to know the different methodological strategies used by fitness instructors. The validity of content, drafting quality and relevance of the created items was achieved through the evaluations made by 14 expert judges. The external validation was accomplished through the application of the test-retest to a sample of 62 instructors of different sports centres in Madrid (Spain) twice with an interval of two weeks. Then we proceeded to check the reliability of the questionnaire by the Spearman test; and the Wilcoxon signed ranks test was used to find out whether there are significant differences between the answers given by the same subject. Items that cannot be classified using a Likert Scale were studied using the McNemar index for related proportions. Finally, after modifications proposed by experts, mainly changes in content, and in accordance with the results of the study, we can assume that the Cuestionario sobre la Forma de Trabajo de los Instructores de Clases Colectivas, entitled from here on CFTICC, has displayed high levels of validity and reliability, in such a way that it provides sufficient guarantees of use to gain knowledge of how do the fitness instructors work.
Collections