Publication:
Optimización térmica del banco de registros mediante técnicas de compilación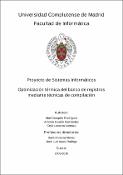 Advisors (or tutors)
Editors
Abstract
El avance en las tecnologías de integración sub-micrónica ha permitido la implementación de complejos sistemas electrónicos, Sin embargo, el coste a pagar ha sido un incremento de la densidad de potencia y, por tanto, la temperatura disipada en la superficie del chip. Esta temperatura tiene diversas repercusiones negativas por su relación con la potencia estática y la fiabilidad de los componentes. El banco de registros de un procesador es uno de los "puntos calientes" más importantes. Su temperatura, ligada al uso de los registros, puede ser optimizada mediante políticas de asignación de registros eficientes. Este trabajo propone dos políticas de asignación de registros, integrados en un entorno de compilación industrial, que optimizan las principales métricas térmicas. [ABSTRACT] Current state of sub-micron integration technologies has allowed the implementation of complex electronic systems. However, the drawback is an increase in the power and, therefore, in the temperature dissipated on the chip surface. This temperature has several negative impacts, due to its relation with static power consumption and reliability of the devices. The register file in the processor architecture is one of the most critical "hot spots". Its temperature, which is related to the assignment of registers, can be optimized by means of efficient compilation techniques. This work proposes two register assignment policies that have been integrated in an industrial compilation flow. These techniques are able to optimize the main thermal metrics.
Description
Proyecto de Sistemas Informáticos (Facultad de Informática, Curso 2009-2010)
Collections