Publication:
Evaluación del desempeño judicial: el caso de la justicia jurisdiccional en México (2007-2017)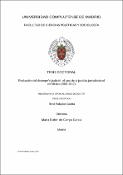 Files
Authors
Advisors (or tutors)
Editors
Publisher
Universidad Complutense de Madrid
Abstract
Se examina el desempeño del Consejo de la Judicatura Federal, integrante del Poder Judicial de la Federación de México en el contexto de la reforma del Presupuesto basado en Resultados para observar si, cualitativamente y cuantitativamente existió algún impacto derivado de la implantación de esta metodología. En ese tenor, esta tesis examina el presente y la contribución a un área inusualmente analizada por la doctrina de la administración orientada al poder judicial, conexión emanada de los efectos de introducir una reforma dentro de los modelos que implican nuevos conceptos dentro del estado de derecho y el entendimiento de instituciones judiciales desde la óptica presupuestal, del desempeño y de la percepción respecto al accionar del sector justicia.En particular para la realización de esta investigación, se utiliza estadística judicial emanada de un estudio de caso diacrónico para contextualizar y posteriormente conocer la evolución que deriva en el servicio de impartición de justicia federal, al tiempo que se propone una metodología de carácter descriptivo respecto a los primeros capítulos, cuantitativo en cuanto a la formulación de indicadores de desempeño judicial a la par de la comprobación de las hipótesis de investigación, y cualitativa respecto al intento de ofrecer resultados de percepción, impacto y medición de la calidad, relacionada con la opinión observada de instituciones judiciales en general y de los jueces en específico...
The performance of the Council of the Federal Judiciary, member of the Judicial Branch of the Mexican Federation in the context of the reform of the Results-based Budget is examined to observe if, qualitatively and quantitatively, there was any impact derived from the implementation of this methodology. In this sense, this thesis examines the present and the contribution to an area unusually analyzed by the doctrine of the administration oriented to the judicial power, connection emanated from the effects of introducing a reform within the models that imply new concepts within the rule of law and the understanding of judicial institutions from the budget perspective, performance and perception regarding the actions of the justice sector.In particular for the realization of this investigation, judicial statistics emanating from a diachronic case study are used to contextualize and subsequently know the evolution that derives from the federal justice service, while a methodology of a descriptive nature with respect to the first chapters, quantitative in terms of the formulation of indicators of judicial performance at the same time as the verification of research hypotheses, and qualitative with respect to the attempt to offer results of perception, impact and measurement of quality with respect to the opinion observed in judicial institutions in general and judges in specific...
Description
Tesis inédita de la Universidad Complutense de Madrid, Facultad de Ciencias Políticas y Sociología, leída el 13/11/2019
Collections