Publication:
Los Pactos de la Moncloa: acuerdos políticos frente a la crisis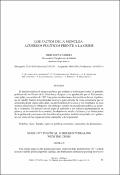 Advisors (or tutors)
Editors
Abstract
El artículo analiza el proceso político que condujo a la firma por todos los partidos políticos de los Pactos de la Moncloa y después a su aprobación por el Parlamento, entre julio y en octubre de 1977. Las primeras elecciones democráticas dieron al gobierno de Adolfo Suárez la legitimidad necesaria para afrontar la crisis económica que se arrastraba desde cuatro años atrás. La profundidad de la crisis y los resultados de esas mismas elecciones le obligaron, sin embargo, a poner en marcha una política de acuerdo y consenso. El artículo presta especial atención a los debates parlamentarios en pleno y en la comisión de economía. Su objetivo es medir el alcance y las limitaciones de la política de consenso entre los diferentes partidos, incluido el partido en el gobierno, así como de las organizaciones sindicales y de la patronal.
The article analyses the political process (between July and October 1977) which led up to all the political parties signing, and Parliament ultimately passing the Pactos de la Moncloa (Moncloa pacts). The general election gave Adolfo Suarez's Government the legitimacy it needed to deal with the economic crisis that had already dragged on for four years. Nevertheless, the magnitude of the crisis as well as the results of that election obliged the Government to implement a policy of agreement and consensus. The article pays particular attention to the parliamentary debates on the floor and in the economic parliamentary committee. The aim is to measure the scope and the limitations of said policy of consensus among the different political parties, even the party in power, as well as among the unions and the business organisations.
Collections