Publication:
Zaccagnaite-3R, a new Zn-Al hydrotalcite polytype from El Soplao cave (Cantabria, Spain)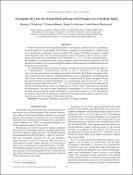 Advisors (or tutors)
Editors
Publisher
Mineralogical Society of America
Abstract
We have recently discovered significant amounts of zaccagnaite, a natural Zn-Al-CO3 hydrotalcite in the El Soplao cave (north Spain). The El Soplao zaccagnaite is speleothemic, i.e., formed in the cave, and therefore it represents a new cave mineral. The origin of El Soplao zaccagnaite is related to the diagenesis of Zn- and Al-rich ferromanganese speleo-stromatolites, where it occurs as a porefilling cement that likely precipitated at low temperature (≤ ~11 °C). In some stromatolite layers, the abundance of zaccagnaite crystals is large enough to enable their physical separation. This has allowed us to obtain its X-ray powder-diffraction pattern, infrared spectrum, and differential thermal/thermogravimetric profiles. The cell parameters of the El Soplao zaccagnaite, refined from X-ray powder diffraction data are: a = 3.06616(1) and c = 22.6164(1) Å [α = β = 90°, γ = 120°; V = 184.139(1) Å3 ; Z = 3], consistent with a new trigonal polytype of zaccagnaite: zaccagnaite-3R. Besides, the El Soplao zaccagnaite shows some features previously unknown in natural hydrotalcites, such as octahedral-like morphologies and fluorescence zoning. Electron microprobe analyses revealed that the El Soplao zaccagnaite-3R has an unusual chemistry for natural hydrotalcites, as it is significantly more rich in Al (Zn2+/Al3+ = 1.6) than the hexagonal (2H) polytype (Zn2+/Al3+ = 2.0). The simplified chemical formula deduced from electron microprobe analysis is (Zn0.6Al0.4)(OH)2(CO3)0.2⋅0.5H2O, where C and water were calculated by stoichiometry. The carbon content calculated by stoichiometry (2.2 wt%) is in good agreement with that measured with the electron microprobe on gold-coated samples (2.5 wt%). The presence of interlayer water and CO3 groups was confirmed by thermogravimetric analysis coupled to mass spectroscopy, and by the analysis of the infrared spectrum.
Collections