Publication:
Una política de defensa europea compatible con la Alianza Atlántica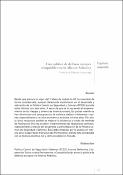 Authors
Advisors (or tutors)
Editors
Publisher
Ministerio de Defensa. Instituto Español de Estudios Estratégicos
Abstract
Desde que entrara en vigor del Tratado de Lisboa, la UE ha avanzado de forma considerable, aunque claramente insuficiente, en el desarrollo y aplicación de la Política Común de Seguridad y Defensa (PCSD) durante estos últimos casi seis años. A pesar de que se ha agravado el empeoramiento de los riesgos y amenazas internacionales, los países miembros han disminuido sus presupuestos de defensa, debido a diferentes razones, especialmente a la crisis económica, en estos mismos años. Por ello, la única respuesta posible es mejorar la eficiencia a través de medidas de Pooling and Sharing, es decir, incrementando las respuestas comunes, especialmente a través del desarrollo y profundización de la Política Común de Seguridad y Defensa. Ésta debe empezar por la puesta en marcha de la Cooperación Estructurada Permanente, siendo ésta compatible con la Alianza Atlántica, tal y como establece el Tratado.
Since the entry into force of the Treaty of Lisbon, the European Union has advanced considerably, although clearly insufficient, in the development and implementation of the Common Security and Defence Policy (CSDP). While international threats and risks worsening has aggravated, member countries have decreased their defence budgets, due to different reasons, especially to the economic crisis, during these same years. Therefore, the only possible response is to improve efficiency through measures of «Pooling and Sharing», i.e., increasing the common responses, especially through the development and deepening of the CSDP.
Collections