Publication:
Papel de los receptores del IGF1 e insulina en el desarrollo y funcionalidad del tejido adiposo marrón: regulación del balance energético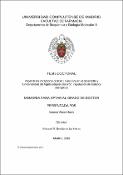 Files
Authors
Advisors (or tutors)
Editors
Publisher
Universidad Complutense de Madrid
Abstract
La obesidad, enfermedad definida por un índice de masa corporal (IMC) ≥30 kg/m2, es reconocida como un problema de salud pública a nivel mundial. Dada su alta prevalencia, esta enfermedad ha alcanzado proporciones epidémicas como consecuencia del aumento del consumo de alimentos hipercalóricos y el aumento del sedentarismo en las sociedades occidentales (Fuster JJ et al., 2016). Tanto el peso corporal como el almacenamiento de lípidos en el tejido adiposo, son determinados por la interacción entre factores genéticos, ambientales y psicosociales. Estos factores influyen en última instancia en el balance energético, el cual resulta del equilibrio entre la ingesta calórica y el gasto energético. (Spielgeman BM & Flier JS, 2001). El órgano adiposo en mamíferos está formado por: el tejido adiposo blanco (WAT), principal tejido encargado del almacenamiento de triglicéridos y el tejido adiposo marrón (BAT), el cual ejerce un papel esencial en el mantenimiento del gasto energético. El BAT, en respuesta al frío o tras un exceso de ingesta, va a disipar la energía en forma de calor, mediante el desacoplamiento de la respiración de la síntesis de ATP (Cannon B & Nedergaard J, 2004). En roedores, el tejido adiposo marrón permanece activo durante toda la vida. Por el contrario, en humanos, el tejido adiposo marrón tiende a desaparecer después del nacimiento, hecho que tradicionalmente hizo asumir la no existencia de tejido adiposo marrón activo en humanos adultos. Sin embargo, este concepto fue erradicado por los estudios que han demostrado la presencia de tejido adiposo marrón metabólicamente activo en humanos. Dicha evidencia, hizo considerar al tejido adiposo marrón como un posible regulador del peso corporal y del balance energético (Cypess AM et al., 2009)...
The prevalence of obesity, defined as a body mass index (BMI) ≥30 kg/m2, is now recognized worldwide as a major health problem, reaching epidemic proportions probably as a consequence of changes in food composition and exacerbated by sedentary lifestyle in Western societies (Fuster JJ et al., 2016). Indeed, food behavior and body weight are determined by the influence of several genetic, environmental, and psychosocial factors. Ultimately, the imbalance between food energy intake and energy expenditure resulted in a prominent fat storage in the adipose organ (Spielgeman BM & Flier JS, 2001). The adipose organ includes two functional and morphologically different types of adipose tissue in mammals: white adipose tissue (WAT), which is the primary site of dynamics triglyceride storage and brown adipose tissue (BAT), an essential component of the adaptive thermogenesis triggered by dissipating energy as heat through uncoupled respiration mediated by uncoupling protein 1 (UCP1) in response to cold or overfeeding (Cannon B & Nedergaard J, 2004). In rodents, brown fat remains active for life. However, in humans largely disappears shortly after birth, and thus it has traditionally assuming that there is no functional brown fat present in adult humans. However, this concept has been radically revised by which have identified active brown fat in human studies, suggesting a critical role of brown fat in human adult energy metabolism and body weight control (Cypess AM et al., 2009). Many paracrine and endocrine factors control adipose tissue development. Among them, insulin and IGF1 play an essential role in stimulating cell proliferation, differentiation and lipid accumulation in the adipose tissue...
Description
Tesis inédita de la Universidad Complutense de Madrid, Facultad de Farmacia, Departamento de Bioquímica y Biología Molecular II, leída el 01-06-2017
Collections