Publication:
Rotation of stripe domains in a sputter deposited Tb-Fe-Ga thin film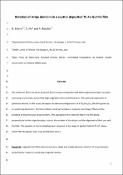 Authors
Advisors (or tutors)
Editors
Abstract
The interest in Tb-Fe-Ga alloys, prepared by techniques compatible with technological processes, has been increasing in the last years, due to their high magnetostriction combined with their potential application in spintronic devices. In this letter, we report the domain configurations of a Tb10Fe76Ga14 thin film grown by co sputtering deposition. The film exhibits a weak perpendicular magnetic anisotropy (PMA) and the presence of discontinuous stripe domains. The application of an external field in the film plane, perpendicular to the stripe direction, induces the rotation of the stripes and the alignment of their axis with the field. This property of the material has been observed in the range of applied fields 0-70 mT, above which PMA disappears and stripe annihilation occurs.
Description
©2017 Elsevier B.V. All rights reserved. The authors thank M.G. Pini for valuable discussions. This work has been financially supported through the projects FIRB2010 RBFR10E61T 'NANOREST' of the Italian Ministry of Education, University and Research and MAT2015-66888-C3-3-R of the Spanish Ministry of Economy and Competitiveness (MINECO)
Collections