Publication:
Planificación multinivel eficiente con aprovisionamiento dinámico en grids y clouds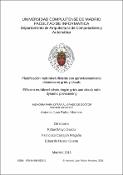 Files
Authors
Advisors (or tutors)
Editors
Publisher
Universidad Complutense de Madrid
Abstract
La consolidación de las grandes infraestructuras para la Computación Distribuida ha resultado en una plataforma de Computación de Alta Productividad que está lista para grandes cargas de trabajo. Los mejores exponentes de este proceso son las federaciones grid actuales. Por otro lado, la Computación Cloud promete ser más flexible, utilizable, disponible y simple que la Computación Grid, cubriendo además muchas más necesidades computacionales que las requeridas para llevar a cabo cálculos distribuidos. En cualquier caso, debido al dinamismo y la heterogeneidad presente en grids y clouds, encontrar la asignación ideal de las tareas computacionales en los recursos disponibles es, por definición un problema NP-completo, y sólo se pueden encontrar soluciones subóptimas para estos entornos. Sin embargo, la caracterización de estos recursos en ambos tipos de infraestructuras es deficitaria. Los sistemas de información disponibles no proporcionan datos fiables sobre el estado de los recursos, lo cual no permite la planificación avanzada que necesitan los diferentes tipos de aplicaciones distribuidas. Durante la última década esta cuestión no ha sido resuelta para la Computación Grid y las infraestructuras cloud establecidas recientemente presentan el mismo problema. En este marco, los planificadores (brokers) sólo pueden mejorar la productividad de las ejecuciones largas, pero no proporcionan ninguna estimación de su duración. La planificación compleja ha sido abordada tradicionalmente por otras herramientas como los gestores de flujos de trabajo, los auto-planificadores o los sistemas de gestión de producción pertenecientes a ciertas comunidades de investigación. Sin embargo, el bajo rendimiento obtenido con estos mecanismos de asignación anticipada (early-binding) es notorio. Además, la diversidad en los proveedores cloud, la falta de soporte de herramientas de planificación y de interfaces de programación estandarizadas para distribuir la carga de trabajo, dificultan la portabilidad masiva de aplicaciones legadas a los entornos cloud...
The consolidation of large Distributed Computing infrastructures has resulted in a High-Throughput Computing platform that is ready for high loads, whose best proponents are the current grid federations. On the other hand, Cloud Computing promises to be more flexible, usable, available and simple than Grid Computing, covering also much more computational needs than the ones required to carry out distributed calculations. In any case, because of the dynamism and heterogeneity that are present in grids and clouds, calculating the best match between computational tasks and resources in an effectively characterised infrastructure is, by definition, an NP-complete problem, and only sub-optimal solutions (schedules) can be found for these environments. Nevertheless, the characterisation of the resources of both kinds of infrastructures is far from being achieved. The available information systems do not provide accurate data about the status of the resources that can allow the advanced scheduling required by the different needs of distributed applications. The issue was not solved during the last decade for grids and the cloud infrastructures recently established have the same problem. In this framework, brokers only can improve the throughput of very long calculations, but do not provide estimations of their duration. Complex scheduling was traditionally tackled by other tools such as workflow managers, self-schedulers and the production management systems of certain research communities. Nevertheless, the low performance achieved by these earlybinding methods is noticeable. Moreover, the diversity of cloud providers and mainly, their lack of standardised programming interfaces and brokering tools to distribute the workload, hinder the massive portability of legacy applications to cloud environments...
Description
Tesis de la Universidad Complutense de Madrid, Facultad de Informática, Departamento de Arquitectura de Computadores y Automática, leída el 12-01-2016
Collections