Publication:
Interacción aminoglicósido-ARN: bases moleculares y diseño de nuevos ligandos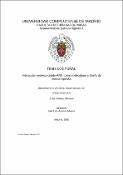 Files
Authors
Advisors (or tutors)
Editors
Publisher
Universidad Complutense de Madrid
Abstract
Los aminoglicósidos son una familia de antibióticos de naturaleza oligosacarídica ampliamente utilizados en clínica. Constituyen, a su vez, una de las familias más importantes de ligandos de ARN, siendo capaces de reconocer de forma específica una gran variedad de dianas de origen viral o bacteriano de relevancia biológica. Por lo tanto, desde una perspectiva química-biológica, estos compuestos pueden considerarse armazones privilegiados para el desarrollo de ligandos poli-aminados de ARN de alta afinidad. Por lo que respecta a su actividad antibiótica, la emergencia y diseminación de fenómenos de resistencia bacteriana ha conferido a la búsqueda de nuevos compuestos activos un carácter de urgencia en años recientes. Desafortunadamente, a pesar de los esfuerzos realizados en este campo durante los últimos 20 años, los avances obtenidos hasta la fecha pueden calificarse de discretos. En nuestra opinión, dos son las razones que han obstaculizado en mayor medida el desarrollo de nuevos compuestos dotados de novedosas actividades. Por un lado, desde una perspectiva fundamental, nuestra comprensión de las fuerzas intermoleculares que determinan la afinidad y selectividad de la interacción ARN/ligando es todavía limitada. En segundo lugar, la dificultad inherente a la preparación de estos compuestos ha supuesto un freno significativo a la química-biológica de los aminoglicósidos. Efectivamente, la elevada polaridad de estas moléculas, la presencia de un buen número de posiciones químicamente equivalentes así como su complejidad estructural...
Aminoglicosides are antibiotics of oligosaccharidic nature widely employed in clinics. They constitute, in turn, one of most important families of RNA ligands, being able to recognize specifically a great variety of viral or bacterial targets of biological relevance. Indeed, from a chemical-biology perspective, these compounds can be considered privileged architectures for the development of high affinity polyamine RNA ligands. Regarding their antibiotic activity, the emergence and dissemination of bacteria resistance phenomena has conferred to the search of new active compounds a character of urgency in the recent years. Unfortunately, despite the efforts made within this field during the last 20 years, the progress obtained to date can be described as modest. In our opinion, there are two main reasons that have obstructed the development of new compounds with novel activities. On the one hand, from a fundamental perspective, our comprehension of the intermolecular forces that determine the affinity and selectivity of the RNA/ligand interaction is still limited. On the other hand, aminoglycoside synthesis is inherently difficult, which has supposed a considerable obstacle to chemical-biology efforts. In particular, the high polarity and structural complexity of these compounds, together with the presence of a large number of chemically equivalent positions...
Description
Tesis inédita de la Universidad Complutense de Madrid, Facultad de Ciencias Químicas, Departamento de Química Orgánica I, leída el 28-09-2015
Collections