Publication:
El sistema termal de Alicún de las Torres (Granada) como análogo natural de escape de CO2 en forma de DIC: implicaciones paleoclimáticas y como sumidero de CO2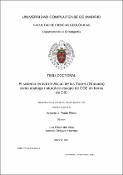 Files
Authors
Advisors (or tutors)
Editors
Publisher
Unviersidad Complutense de Madrid, Servicio de Publicaciones
Abstract
El presente trabajo tiene como objetivo final el evaluar la seguridad y el comportamiento, a largo plazo, de un Almacenamiento Geológico Profundo (AGP) de CO2 mediante el estudio de los procesos físico-químicos que controlan la evolución hidrogeoquímica de un sistema natural análogo a un almacenamiento artificial de CO2. Para ello, se ha estudiado el Sistema Termal de Alicún de las Torres (Provincia de Granada), el cual está considerado como un Análogo Natural de escape de CO2 debido a que sus aguas presentan un alto contenido en carbono inorgánico disuelto (DIC), que escapa a través de un sistema de fallas de manera análoga a como ocurre en muchos almacenes naturales de dióxido de carbono y, por lo tanto, a como se espera que lo hagan en un AGP de CO2. [ABSTRACT]The work aims ultimately to provide a method of assessment of the safety and behaviour, in the longterm, of a CO2 Deep Geological Storage (DGS) through the study of the physicochemical processes which control the hydro-geochemical evolution of a natural system; analogous to an artificial storage of CO2. To do this, an integral study of the Alicún de las Torres Thermal System (province of Granada), has been carried out. This Thermal System is considered as a Natural Analogue of CO2 leakage because its waters have a high content of dissolved inorganic carbon (DIC) that escapes through an important system of faults, similar to what occurs in many other natural storages of carbon dioxide and analogous therefore to what could be expected in a CO2 Deep Geological Storage system.
Description
Tesis de la Universidad Complutense de Madrid, Facultad de Ciencias Geológicas, Departamento de Estratigrafía, leída el 05-05-2011
Collections