Publication:
Influencia de las estructuras profundas sobre el EEG y su estudio invasivo y no invasivo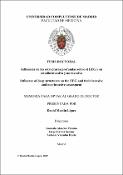 Files
Authors
Advisors (or tutors)
Editors
Publisher
Universidad Complutense de Madrid
Abstract
El EEG es la prueba diagnóstica de mayor utilidad en el diagnóstico de la epilepsia. Consiste esencialmente en la representación gráfica de los potenciales postsinápticos generados en las neuronas piramidales de la corteza. Los campos eléctricos registrados en la superficie tienen principalmente dos mecanismos de origen: conducción de volumen desde regiones adyacentes y propagación interneuronal sináptica. Las neuronal piramidales se agrupan formando microcircuitos locales siendo estos circuitos los responsables de la generación delos ritmos registrados en el EEG. Uno de los principales retos de la electroencefalografía consiste en descifrar la relación entre la actividad registrada y la actividad subyacente en las redes neuronales. Para encontrar la fuente de dichas actividades, es necesario tener en cuenta complejos mecanismos tanto no lineales como lineales, así como el efecto de la conducción de volumen y la influencia de la morfología y las propiedades eléctricas del cerebro y el cráneo. Además, las regiones cerebrales se encuentran profusamente interconectadas a menudo produciendo una modulación recíproca que añade un mayor grado complejidad...
The EEG is the most valuable diagnostic test in epilepsy. In essence, it mainly consists in agraphical representation of the summated postsynaptic potentials generated in the pyramidal neurons from the cortex. The electrical fields can be generated on the scalp by two mechanisms: volume conduction from nearby regions and synaptic inter‐neuronal propagation. Pyramidal cells align conforming local microcircuit configurations which activation lead to the generation of EEG rhythms. One of the main challenges of EEG is to decipher the relation between the recorded EEG activity and the activity in the neuronal networks. To find the source of EEG activity, complex non‐linear and linear mechanisms as well as volume conduction effect and influence of the shape and electrical properties of the brain and skull need to be taken in consideration. In addition, brain regions are profusely interconnected and functionally connected regions often produce mutual modulation that adds additional complexity...
Description
Tesis inédita de la Universidad Complutense de Madrid, Facultad de Medicina, Departamento de Fisiología, leída el 22-11-2019
Collections