Publication:
Identificación de aislamientos clínicos y ambientales de Nocardia spp. mediante técnicas genómicas y proteómicas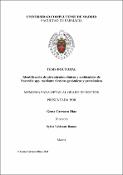 Files
Authors
Advisors (or tutors)
Editors
Publisher
Universidad Complutense de Madrid
Abstract
El género Nocardia se ubica dentro del orden Corynebacteriales, junto con Conynebacterium y Mycobacterium, y son bacilos Gram-positivo ramificados con alto contenido en G+C. Comprende unas 200 especies de amplia distribución ambiental que crecen lentamente en condiciones de aerobiosis como colonias separadas y con distintas morfologías, produciendo micelios primarios que se pueden fragmentar en hifas conforma cocoide. Son responsables de infecciones oportunistas en humanos, principalmente en pacientes inmunodeprimidos, con diabetes o neoplasias, inmunosenescentes, trasplantados de órganos sólidos, o en tratamiento con medicamentos inmunosupresores o corticosteroides. Afecta principalmente a los pulmones y tejido cutáneo y subcutáneo, pero puede diseminarse hasta el Sistema Nervioso Central, ojos, y otras regiones. Esta capacidad de diseminación, la presencia de abscesos y granulomas, las recaídas y las infecciones crónicas pueden hacen de su tratamiento un desafío. Además, al igual que otras Actinobacterias, posee una alta capacidad biosintética, lo que ha despertado el interés de la industria farmacéutica...
The genus Nocardia is located within the order Corynebacteriales, together with Conynebacterium and Mycobacterium, and they are Gram-positive branched bacilli with a high content of G+C. It comprises about 200 species of wide environmental distribution that grow slowly under aerobic conditions as separate colonies with different morphologies, producing primary mycelia that can be fragmented into hyphae with a coccoid shape. They are responsible for opportunistic infections in humans, mainly in immunosuppressed patients, with diabetes or neoplasms, immunosenescent, solid organ transplants, or in treatment with immunosuppressive drugs or corticosteroids. It mainly affects the lungs and cutaneous and subcutaneous tissues, but can spread to the Central Nervous System, the eyes, and other regions. This ability to spread, the presence of abscesses and granulomas, relapses, becoming chronic infection can make treatment challenging. In addition, like other Actinobacteria, it has a high biosynthetic capacity, which has aroused the interest of the pharmaceutical industry...
Description
Tesis inédita de la Universidad Complutense de Madrid, Facultad de Farmacia, Departamento de Microbiología y Parasitología, leída el 10-05-2021
Collections