Publication:
La representación de la inmigración en los medios españoles: un estudio de ABC, El País y La Vanguardia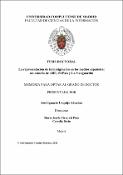 Files
Authors
Advisors (or tutors)
Editors
Publisher
Universidad Complutense de Madrid
Abstract
El tema de esta investigación es el estudio de la representación de la inmigración en los medios escritos españoles. En particular, se han analizado más de doscientos artículos que contienen la palabra "inmigrante" y que han sido publicados por ABC, El País y La Vanguardia durante dos períodos: diciembre de 2017, un mes caracterizado por las elecciones regionales en Cataluña, y diciembre de 2019, un período sin elecciones en España. Los tres periódicos han sido elegidos por sus diferentes características en relación a su posicionamiento político. Antes de comenzar el análisis, se han estudiado las principales herramientas y resultados de autores relevantes en la investigación de los medios de comunicación y las migraciones. El acuerdo general entre estos autores es que, a pesar de que existe una gran proliferación de investigaciones relacionados con la inmigración y los medios, todavía hay áreas poco exploradas que requieren una indagación más exhaustiva. La presente tesis contribuirá a cubrir esta necesidad a través de un enfoque multidisciplinar que incluye elementos del análisis del contenido, del análisis del encuadre y del análisis crítico del discurso, con énfasis en la relevancia del enfoque histórico-discursivo y del análisis crítico del texto. Trabajando con estos elementos, se ha construido un libro de códigos que puede ser aplicado para analizar las particularidades de los periódicos españoles...
The topic of this investigation is the study of the representation of migration in the Spanish newspapers. In particular, it analyses more than 200 articles containing the word "inmigrante" published by ABC, El País and La Vanguardia during two different periods: December 2017, characterized by regional elections in Catalonia, and December2019, a period without elections in Spain. The three newspapers have been selected because of their different particularities regarding their political positioning. Before starting the original investigation, the thesis studies the main tools and findings of authors from Media and Migration Studies. The general agreement among these authors is that, even though there has been a proliferation of investigations concerning migration and media, there are still underexplored areas that require more attention. The present thesis will contribute to filling this need by taking into account a multidisciplinary approach, including elements from content analysis, frame analysis and critical discourse analysis, with an emphasis on the relevance of discourse-historical approach and textual analysis. Using these elements, it was built a codebook that can be applied to analyse the particularities of the Spanish newspapers...
Description
Tesis inédita de la Universidad Complutense de Madrid, Facultad de Ciencias de la Información, leída el 14-01-2022
Collections