Publication:
Adaptación de instrumentos para la evaluación de aspectos organizacionales en ONG's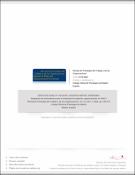 Advisors (or tutors)
Editors
Publisher
Colegio oficial de psicólogos de Madrid
Abstract
En los últimos años se ha evidenciado que las actitudes hacia la organización o hacia la actividad en sí juegan un importante papel en la explicación de la continuidad de los voluntarios en las organizaciones. A pesar de ello, aún no se cuenta con instrumentos de evaluación adecuados que permitan un estudio más exhaustivo de estas actitudes en los voluntarios. En este artículo se presenta la adaptación a este ámbito de algunos instrumentos habitualmente utilizados para estudiar dichas actitudes en personal remunerado. El Organizational Commitment Questionarie (OCQ) de Mowday, Steers y Porter, el Job Involvement de Lodahl y Kejner y el Job Diagnostic Survey de Hackman y Oldham adaptados a la población voluntaria se aplicaron a 419 voluntarios que realizaban muy diferentes actividades. El análisis de algunas de las propiedades psicométricas de estos instrumentos muestra que tanto el Organizational Commitment Questionarie como el Job Diagnostic Survey parecen adaptarse bien a las peculiaridades del voluntariado, en cambio, con el Job Involvement se encuentran resultados que permiten cuestionar su validez y adecuación, por lo que será necesario desarrollar más investigaciones para su rechazo o su afirmación definitiva en el estudio del voluntariado.
In the last years, evidence has cumulated about the fact that attitudes towards organization or towards voluntary activity play a major explanatory role in the continuity of volunteers in organizations. Yet, there are no appropriate assessment tools for a comprehensive study of these attitudes in voluntarism. This paper describes the adaptation of a number of instruments measuring attitudes commonly used with personnel who have a salary. The Organizational Commitment Questionnaire (OCQ) by Mowday, Steers and Porter, the Job Involvement by Lodahl and Kejner and the Job Diagnostic Survey by Hackman and Oldham were administered to 419 volunteers. The analysis of some psychometric properties of these instruments shows that, on one hand the Organizational Commitment Questionnaire and the Job Diagnostic Survey seem to fit well to voluntarism. On the other hand, the validity and adaptation of the Job Involvement are questionable and hence further research would be needed to test its utility in voluntarism.
Collections