Publication:
Algoritmos de encaminamiento en gradiente para redes de sensores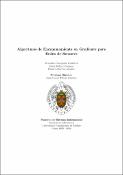 Advisors (or tutors)
Editors
Abstract
Hoy en día es frecuente el uso de sensores móoviles que deben poder establecer una red para el envío de datos entre ellos de forma continua. Para posibilitar esta comunicación es necesario un algoritmo que permita decidir el camino que debe seguir la información cuando no existe una comunicación directa entre el origen y el destino. Se ha desarrollado un software para controlar la interfaz Bluetooth de SHIMMER, que es uno de los principales sensores inalámbricos que se podrían utilizar para el algoritmo. Esto ha sido probado en el simulador MSPsim después de una serie de adaptaciones que este ha requerido para su correcto funcionamiento. Por otra parte, se ha llevado a cabo el diseño y la implementación de dicho algoritmo de encaminamiento dinámico para sensores equipados con tecnología Bluetooth que permite que los nodos trabajen ordenadamente para recibir datos. Dichos datos deben viajar de un nodo origen a un nodo destino a través del camino más corto, es decir, aquel que suponga atravesar el menor número de intermediarios posibles. Para ello se ha definido un formato de trama adecuado y se han introducido detalles interesantes en la implementación, como mecanismos para poder dar servicio a más de un nodo a la vez. [ABSTRACT] Nowadays it is common to use mobile sensors which must be capable of establishing a network for a seamlessly data sending between them. In order to make this communication posible an algorithm is needed to decide the path the information will follow when there is no direct communication between the source and destination. A software has been developped in order to control the SHIMMER's Bluetooth interface which is one of the main wireless sensors that could be used for the algorithm. This has been tested in the MSPsim simulator after a series of adaptations required for a proper running. On the other hand, the design and implementation of the said dynamic routing algorithm for Bluetooth technology equipped sensors have been carried out in order to allow the nodes to work tidily for data receiving. The data above must travel form an source node to a destination node through the shortest path, that means, the one ment to go through the lowest number of possible intermediaries. For this a suitable frame format has been dened and some interesting details have been introduced in the implementation as mechanisms for attending more than one station at a time.
Description
Proyecto de Sistemas Informáticos (Facultad de Informática, Curso 2009-2010)
Collections