Publication:
La crítica literaria en el siglo XIX: Antonio Alcalá Galiano (1789-1865)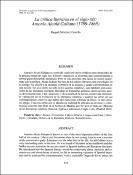 Authors
Advisors (or tutors)
Editors
Publisher
Facultad de Filología UCM
Abstract
Antonio Alcalá Galiano es conocido como uno de los políticos más destacados de la primera mitad del siglo xix. Liberal y masón en sujuventud, pasó posteriormente a formar parte del partido moderado. Pero su vida presenta otra faceta no menos importante que la política. Alcalá Galiano fue uno de los críticos literarios más escuchados en su tiempo. Su afición a la literatura comenzó en la infancia y acabó convirtiéndose en una pasión: fue un experto no sólo en los autores españoles, sino también gran conocedor de las literaturas europeas. Introdujo en España las primeras observaciones acerca del romanticismo y del clasicismo, y de la teoría de la novela, realizó una interesante valoración de la evolución de la literatura española y analizó las obras de sus contemporáneos, entre los que habría que mencionar al Duque de Rivas, su más cercano amigo. Toda esta reflexión se plasmó en multitud de artículos en revistas y conferencias como las que dictó en el Ateneo de Madrid, que llevaron el título de «Historia de las literaturas española, francesa, inglesa e italiana en el siglo xviii» (Madrid 1845). [ABSTRACT]Antonio Alcalá Galiano is known as one of ihe most important politics in ihe first half of XIX century. Liberal and freemason when he was young, later he was a member of the conservative party. Literature was the other face la bis life. Alcalá Galiano was a very outstanding criíic in bis time. He was found of literature in bis childhood and this hobby became a passion: he was an expert in Spanish authors and European literature. He introduced into the Spanish literary world the controversy about clasicism and romanticism and about theory of novel, he did an interesting valuation of Spanish literature and he analyzed bis contemporaries' works, especially Duque de Rivas' plays, his closest friend. His ideas were written ¡o a lot of articles and listened in lectures in the Ateneo of Madrid: «History of Spanish, French, English and Italian literatures in the XVIII century» (Madrid 1845).
Collections