Publication:
Acercamiento cualitativo a la emancipación residencial en periodos de crisis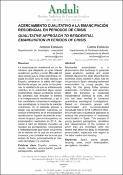 Advisors (or tutors)
Editors
Abstract
La emancipación residencial es un fenómeno que despierta un gran interés académico, político y social. Más allá del claro efecto que la crisis económica, iniciada en 2008, tuvo en este proceso en España, retrasando la salida del hogar familiar/de origen por parte de los jóvenes, la realidad a la que se enfrenta este colectivo en la actualidad sigue siendo problemática. Siguen existiendo contextos adversos que dificultan el tránsito a la independencia residencial, y así lo han constatado numerosas investigaciones sociológicas, la mayoría de carácter cuantitativo. En el presente artículo, y desde una aproximación cualitativa, se analiza el fenómeno de la emancipación residencial en España recurriendo a reuniones de grupo (para emancipados y no emancipados) realizadas en 2014. Llevadas a cabo en distintas ciudades, se recogen así percepciones, valoraciones e interpretaciones que hacen los jóvenes de la realidad en la que se encuentran inmersos y se constatan los factores que actúan de freno, principalmente el mercado de trabajo y la vivienda.
Residential emancipation is a phenomenon that continues to generate great academic, political and social interest. Beyond the clear effect that the economic crisis, started in 2008, had on this process in Spain, delaying residential emancipation by young people, the reality for this group today remains problematic. Conditions that adversely affect the transition to residential independence continue to exist, and this has been verified in numerous quantitative sociological investigations. Based on discussion groups with emancipated and non-emancipated individuals held in 2014 in different cities, this article uses a qualitative approach to analyze the phenomenon of residential emancipation in Spain. This analysis of young people's perceptions, valuations and interpretations of the contexts in which they are immersed verify the factors that affect the delay in residential emancipation, especially with regard to the labor market and housing.
Collections