Publication:
Towards quantum simulation of black holes in a dc-SQUID array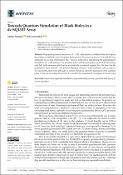 Authors
Advisors (or tutors)
Editors
Abstract
We propose quantum simulations of 1 + 1D radial sections of different black hole spacetimes (Schwarzschild, Reissner-Nordstrom, Kerr and Kerr-Newman), by means of a dc-SQUID array embedded on an open transmission line. This was achieved by reproducing the spatiotemporal dependence of 1 + 1D sections of the spacetime metric with the propagation speed of the electromagnetic field in the simulator, which can be modulated by an external magnetic flux. We show that the generation of event horizons-and therefore Hawking radiation-in the simulator could be achieved for non-rotating black holes, although we discuss limitations related to fluctuations of the quantum phase. In the case of rotating black holes, it seems that the simulation of ergospheres is beyond reach.
Description
© 2021 by the authors. C.S. has received financial support through the Ramon y Cajal programme (RYC2019-028014-I).
Collections