Publication:
Teoría de los ciclos reales en economía abiertas: una aplicación al caso español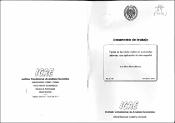 Files
Authors
Advisors (or tutors)
Editors
Publisher
Facultad de Ciencias Económicas y Empresariales. Instituto Complutense de Análisis Económico (ICAE)
Abstract
En este trabajo se analiza el comportamiento cíclico de algunas variables reales de la economía española. Presentamos un modelo de equilibrio general, dinámico y estocástico para una economía abierta y pequeña, el cual es parametrizado, calibrado y simulado con el fin de evaluar su consistencia con las principales fluctuaciones agregadas asociadas al ciclo económico español. Los resultados muestran que el modelo es capaz de explicar en términos generales las volatilidades cíclicas y correlaciones de los componentes de la renta nacional así como el caracter contracíclico de la balanza comercial.
This paper analyzes the ciclical behaviour of the main real variables of the spanish economy. To do that, we use a simple dynamic stochastic general equilibrium model for a small open economy, wich is parameterized, calibrated and simulated to evaluate its cosistence with somee empirical regularities of the spanish economic fluctuations. We find that the model proposed is consistent with the cyclical volatilities and correlations of the national income account components, as well as the countercyclical character of the trade balance.
Citation
[1] Bentolila,S. y Blanchard,O.(1991),"El paro en España" en Estudios de Economía del Trabajo en España. III El problema del Paro, S. Bentolila y Toharia,L.(comp.). Ministerio de Trabajo y Seguridad Social en España, 953-997. [2] Carbajo, R. y García-Perea, P.(1987),"Series históricas homogéneas de horas trabajadas". Documento de Trabajo 8709, Fedea, Madrid, [3] Christiano, L.J. Y Eichenbaum (1992),"Current real business cycle theories and aggregate labor market fluctuations", American Economic Review 82, 430-450. [4] Cooley, T.F. y Hansen, G.(1989). "The inflation tax in a Real Business Cycle Model". American Economic Review, 79(4), pp.733-748. September. [5] Cooley, T.F. y Prescott, E.C.(1995),"Economic growth and business cycles", Capítulo 1 de Frontiers of Business Cycle Research, T. Cooley (ed.), Princeton University Press. [6] Corrales, A. y Taguas, D.(1990),"Series macroeconómicas para el periodo 1954-1984, un intento de homogeneización", en MOISEES: Un Modelo de Investigación y Simulación de la Economía Española, Molinas et al.,(eds.), Antoru Bosch, Barcelona. [7] Correia, I., Neves, J.C. y Rebelo, S.(l995),"Business cycles in a small open economy", European Economic Review, 39, 1089-1113. [8] Dolado, J.J., Sebastián, M. y Vallés, J.(1993),"Cyclical patterns of the spanish economy", Investigaciones Económicas 17, 445-472. [9] Domínguez, E.(1995), "Características de Estructura Intertemporal de Rentabilidades en un Modelo de Equilibrio General Estocástico", Tesis Doctoral. Universidad Complutense de Madrid. [10] Estrada, A. y Sebastián, M.(1993),"Una serie de gasto en bienes de consumo duradero", Documento de Trabajo 9305, Banco de España. [11] European Economy (1994), numo 58. [12] Greenwood, J., Hercowitz, Z. y Huffman, G. (1988),"Investement, capacity utilization and the real business cycle", American Economic Review 78, 971-987. [13] Hairault, J-O y Portier, F.(1995), Advances in Business Cycle Research, Pierre-Yves (ed.), Springer. [14] King, R.(1990),"Money and Business Cycles", Working PapeT, University of Rochester. [15] Kydland, F. y Prcscott, E.C.(1982),"Time to build and aggregate fluctuations", Econometrica 50, 1345-1370. [16] Long, J.B. y Posser. C.I.(1983), "Real Business Cycles", Journal of Political Economy 91, 1345-1370. [17] Manzano, B.(1997),"Política fiscal y ciclo económico", Mimeo. [18] McCalum, B.T.,"Real Business Cycles Models", in R.J. Barro, ed.,Modern Business Cycle Theory (Cambridge: Harvard University Press, 1989,16-50. [19] Mendoza, E.G.(1991),"Real Business Cycles in a Small Open Economy". American Economic Review 81, 797-818. [20] Mendoza, E.G.(1995),"The Terms of Trade, The Real Exchange Rate, and Economic Fluctuations", International Economic Review 36, No.1, 101-137. [21] Prescott, E.C.(1986),"Theory ahead of business cycle measurement", Quaterly Review 10(4), 9-33, Federal Reserve Bank of Minneapolis, Minneapolis, MN. [22] Puch, L. y Licandro, O.(1995),"Teoría de los Ciclos Reales y Fluctuaciones Agregadas de la Economía Española", Fedea, Documento de Trabajo 9524. [23] Sims, C.A.(1984),"Solving the Stochastic Growth Model by Backsolving with a Particular Nonlinear Form for the Decision Rule" ,Journal of Business and Economic Statistic 8, 45-47.