Publication:
Análisis de estancia postoperatoria prolongada en cuidados intensivos después de cirugía cardiaca. Desarrollo y validación de un modelo predictivo propio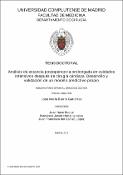 Files
Authors
Advisors (or tutors)
Editors
Publisher
Universidad Complutense de Madrid
Abstract
La evolución tecnológica y los avances en anestesia, cirugía cardiaca (CC) y en cuidados intensivos han permitido afrontar con mayores garantías de éxito procedimientos quirúrgicos de cirugía cardiaca (CC) cada vez más complejos. Por otro lado, el perfil clínico de los pacientes que se operan de CC en la actualidad ha cambiado considerablemente. Tienen cada vez más edad, más patología asociada y muchos de ellos tienen como antecedente el haber tenido una intervención cardiaca previa (lo que complica extraordinariamente el procedimiento) o son operados con carácter de urgencia. Estos factores no han supuesto un aumento de la mortalidad hospitalaria, aunque si, un incremento de las complicaciones postoperatorias y una prolongación de la estancia postoperatoria en las unidades de cuidados intensivos (UCI). La mayoría de los pacientes operados de (CC) precisan una estancia PO en UCI de entre 48-72 horas. El porcentaje publicado de pacientes que precisa una estancia prolongada en UCI después de CC (EPUCI-CC) varía entre el 4 y el 11%. A pesar de su pequeño número, este grupo de pacientes, tiene una gran repercusión en términos de ocupación de camas de UCI, que se ha cuantificado hasta en un 30%...
Evolution of technology and advances in anaesthesia, cardiac surgery and intensive care (ICU) treatment have made possible to cope with greater guarantee of success in increasingly complex cardiac surgery (CS) procedures. On the other hand, the clinical profile of cardiac surgery patients has worsened, with a more elderly surgical population presenting with multiple comorbidities and many of them with a previous CS (which extraordinarily complicates the procedure) or are operated on emergency procedures. All these factors have not increased in-hospital mortality but an increase in postoperative complications and a longer ICU stay Most of CS patients spend less than 48-72 hours in ICU before been discharged to the ward. The published percentage of patients that needs a prolonged ICU stay after CS (PICUS-CS) ranges between 4 to 11%. However these patients have a dramatic impact regarding to ICU beds occupancy, that has been quantified in up to a 30%. Prolonged ICU Stay after CS is related primarily with postoperative complications. Its incidence ranges between 15 to 65% and is determined by preoperative clinical status, type of surgery and intraoperative course. It has been shown that the type of complications is a relevant factor of adverse outcomes and that non-cardiac complications and cardiac complications with organ failure have a greater impact on ICU stay that cardiac failure alone...
Description
Tesis inédita de la Universidad Complutense de Madrid, Facultad de Medicina, Departamento de Cirugía, leída el 20/06/2017
Collections