Publication:
Desarrollo de un modelo murino gestante de la infección por "Neospora caninum"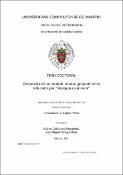 Files
Advisors (or tutors)
Editors
Publisher
Universidad Complutense de Madrid, Servicio de Publicaciones
Abstract
El modelo murino gestante aquí desarrollado confirma que el periodo de gestación en el que tiene lugar la infección determina la mortalidad fetal y la transmisión vertical a la progenie. También pone de manifiesto que la infección con N. caninum en cualquiera de los tres tercios de la gestación tiene graves consecuencias para la progenie, provocando mortalidad fetal y neonatal, un retraso en el desarrollo general de las crías, signos clínicos de neosporosis y graves lesiones histopatológicas. Además, la infección durante la gestación induce cambios en la respuesta inmune en la interfase maternofetal, demostrando su importancia en el desarrollo de la gestación. Por último, la infección en el segundo tercio de la gestación junto con el estudio del periodo post-natal constituye un valioso modelo experimental para el desarrollo de nuevas vacunas y agentes quimioterapeúticos frente a la infección congénita y para la selección de protocolos eficaces para su posterior uso en el modelo bovino. También puede ser empleado para estudios comparativos de virulencia entre los diferentes aislados de N. caninum.[ABSTRACT]our study confirms that timing of infection during pregnancy determines foetal losses and transmission to the offspring. Furthermore, N. caninum infection at the three pregnancy periods had fatal consequences for pups born from infected dams, leading to a delay in the general development of neonates, clinical signs compatible with neosporosis and histopathological lesions. In addition, infection during gestation induces changes in the immune response at the materno-foetal interface, demonstrating its importance in the outcome of gestation. Finally, we propose that infection at midgestation (day 7) and its study during the post-natal period is a valuable tool for testing new chemotherapeutic agents and vaccines against congenital neosporosis, before its use on bovine, in order to reduce the high mortality and transmission rates observed. In addition, differences in virulence among N. caninum isolates could be also evaluated.
Description
Tesis de la Universidad Complutense de Madrid, Facultad de Veterinaria, Departamento de Sanidad Animal, leída el 11-03-2011
Collections