Publication:
Sociologizando la resiliencia. El papel de la participación socio-comunitaria y política en las estrategias de afrontamiento de la crisis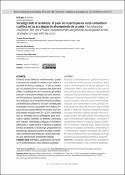 Authors
Castro Pericacho, Carlos de
Advisors (or tutors)
Editors
Publisher
Federacion Española de Sociologia
Abstract
Partiendo de una definición multidimensional, gradual y procesual del concepto de resiliencia que implica el desarrollo de diversas estrategias , el artículo propone que, en cada posición en el espacio de interacción socio político, la participación socio-comunitaria y/o política promueve la articulación sinérgica de varias dimensiones de la resiliencia (individual, familiar, socio-comunitaria restrictiva, socio-comunitaria inclusiva y política) posibilitando una salida de la crisis con un mayor grado de bienestar. Así pues, basándonos en el material empírico del caso español obtenido en el marco de un proyecto europeo realizado entre 2014 y 2016, este trabajo pone de manifiesto que la participación socio-comunitaria y política constituye un elemento fundamental para impulsar modalidades sinérgicas de resiliencia, potenciando el capital social y el bienestar de sujetos y familias; no obstante, se observa que, precisamente las personas que soportan situaciones de mayor vulnerabilidad, encuentran más obstáculos y menos herramientas para articular estas beneficiosas sinergias.
Based on a multidimensional, gradual and processual definition of the concept of resilience, which entails the development of diverse strategies, this article poses that in every position of the space of socio-political interaction, the socio-communitarian and/or political participation promotes the synergic articularion of several dimensions of resilience (individual, familiar, restrictive socio-communitarian, inclusive socio-communitarian and political) making possible to cope with the crisis with a greater degree of wellbeing. Therefore, through the analysis of Spanish empirical material obtained from an European project, this work reveals that political and socio-communitarian participation constitutes a fundamental element to impulse synergic modalities of resilience, fostering social capital and the wellbeing of subjects and families; nevertheless, it is interesting to observe that people who hold on the worse situations find more obstacles and less resources to articulate these beneficial synergies.
Collections