Publication:
Medida borrosa de la fiabilidad de un recurso para entornos Grid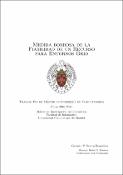 Authors
Advisors (or tutors)
Editors
Abstract
La planificación de trabajos en Grids Computacionales es una tarea compleja debido a la falta de control sobre los recursos. En estas condiciones es imposible saber exactamente qué recurso se comportará mejor para cada trabajo. Por otra parte, los sistemas borrosos han demostrado en los últimos años que funcionan perfectamente en estos escenarios en los cuales la informacion es imprecisa o incompleta y donde se carece de un modelo exacto del espacio de optimización. En esta memoria presentamos un sistema borroso, construido para trabajar con el meta-planificador Grid-Way, para evaluar la fiabilidad de cada recurso candidato. Esta información puede ser después utilizada por GridWay para elegir el recursos al que el trabajo será lanzado. La memoria está dividida en 3 partes. Las dos primeras son más teóricas y sirven de introducción a las dos tecnologías sobre las que se basa este trabajo, la Lógica Borrosa y la meta-planificación. La tercera está completamente dirigida a explicar las soluciones propuestas por proyecto del que surge esta memoria y su posterior diseño e implementación. [ABSTRACT] Job scheduling in Computational Grids is a complex task because of the lack of control over the resources. Under these conditions, it is impossible to know exactly which host will perform better for a given job. On the other hand, fuzzy systems have demonstrated in recent years to behave well in this kind of situations, with imprecision, incomplete information or a lack of an exact model of the optimization space. In this paper we present a fuzzy system, built on top of the GridWay meta-scheduler, to evaluate the reliability of each candidate resource. This information is used by GridWay to choose the resource where the job will be dispatched. This memo is divided in three parts. The first two are an introduction to the theories on which this work is based upon, the Fuzzy Logic and the superscheduling. The last part is completely dedicated to explain the solutions proposed by this project and its design and implementation.
Description
Máster en Investigación en Informática, Facultad de Informática, Departamento de Arquitectura de Computadores y Automática, curso 2010-2011