Publication:
Adsorción de metales estratégicos sobre materiales carbonosos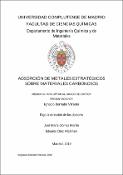 Authors
Advisors (or tutors)
Editors
Publisher
Universidad Complutense de Madrid
Abstract
El presente trabajo es parte de la línea de investigación desarrollada por el grupo de Catálisis y Procesos de Separación (CyPS) del Departamento de Ingeniería Química de la Universidad Complutense de Madrid. Esta línea se enmarca en el tratamiento de efluentes acuosos orientado no sólo a la eliminación, sino también a la recuperación de metales estratégicos (Cobalto, galio e indio) presentes en aguas procedentes de la industria minera. Esta actividad se ha desarrollado dentro del proyecto REMEWATER, financiado por el Ministerio de Economía y Competitividad (CTQ2014-59011-R). El agua es un recurso clave para la vida y todo tipo de actividad. Sin embargo, la industria es responsable de que la calidad de las aguas haya disminuido debido al vertido incontrolado. De hecho, la concentración de iones metálicos en aguas industriales es considerable, en concreto, existe un creciente interés en los llamados "metales estratégicos". Se considera metal estratégico cualquier especie metálica con un amplio impacto económico debido al amplio abanico de aplicaciones y su escasez. Ejemplos claros son los metales cobalto, galio e indio...
Nowadays, industrial activity is leading to an increase in the concentration of some metals in water, such as cobalt, zinc, copper, nickel, and chromium (Kobya et al. 2005). Among all of them, there is an increasing concern about the removal and recovery of some of them, called "strategic metals" not only because of their toxicity but also due to the increase in their high consumption and scarcity (Alloway and Ayres 1993). Cobalt is mainly used in rechargeable battery electrodes and in superalloys, which are used to make parts for gas turbine engines. Gallium is mainly used for light emitting diodes (LED), solar cells and photoelectronic devices. Indium is used in the manufacturing of alloys, semiconductors and liquid crystal display screens (LCD) and DVD players. These metals are presented in nature as impurities of zinc ores and bauxite, which is the main source of gallium...
Description
Tesis inédita de la Universidad Complutense de Madrid, Facultad de Ciencias Químicas, Departamento de Ingeniería Química y de Materiales, leída el 05-09-2019
Collections