Publication:
Utilidad de la tomografía por emisión de positrones: tomografía computerizada con ¹⁸F-fluorodesoxiglucosa (¹⁸F-FDG PET/TC) en el diagnóstico y tratamiento de los pacientes con endocarditis infecciosa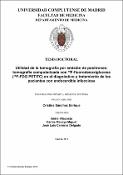 Files
Authors
Advisors (or tutors)
Editors
Publisher
Universidad Complutense de Madrid
Abstract
La endocarditis infecciosa (EI) es una enfermedad grave que conlleva una gran morbimortalidad, cuya incidencia ha aumentado en los últimos años, principalmente en pacientes ancianos, portadores de prótesis valvulares (PV) y en aquellos con dispositivos intracardiacos (DIC); y cuya mortalidad, a pesar de los grandes avances terapéuticos, ha permanecido inalterada en las últimas décadas. El diagnóstico precoz de la enfermedad es fundamental. Permite la instauración del tratamiento antibiótico apropiado de forma temprana y evita en gran medida la aparición de las posibles complicaciones letales que pueden presentarse. Sin embargo, la gran variedad de gérmenes causales, la posibilidad de afectación de distintas válvulas y dispositivos intracardiacos, el amplio espectro de manifestaciones clínicas y la creciente comorbilidad de los pacientes, hacen que en muchos casos el diagnóstico suponga un auténtico reto. Actualmente, éste se basa en hallazgos clínicos, microbiológicos y ecocardiográficos, según los Criterios modificados de Duke (CD), que tienen una sensibilidad del 80%, aproximadamente. No obstante, la capacidad de diagnóstico en los estados iniciales de la enfermedad es bastante menor, lo que retrasa el tratamiento y por tanto aumenta la morbimortalidad de la EI. Este problema es incluso más evidente en pacientes portadores de PV y DIC, en los que la precisión diagnóstica de la ecocardiografía es menor, que en otros escenarios...
Infective endocarditis (IE) is a life-threatening disease which carries high mortality and morbidity. Its incidence has risen in the last years, mainly in old patients, those with prosthetic valves (PV) and cardiac devices (CD). Moreover, despite the advances in therapeutic options, its mortality has remained unchanged in the last decades. Early diagnosis is crucial to make a correct management of the disease, allowing an early start of antibiotic treatment and avoiding the appearance of complications. However, the wide variety of causal microorganism, the possibility of infection of several valves and CD, the wide range of clinical presentation and the increasing comorbidities of patients, make diagnosis a challenge. Nowadays, diagnosis is based on clinical, microbiological and echocardiographic findings, according to the modified Duke Criteria (DC), which have a sensitivity of 80% at the end of follow-up. Nevertheless, its ability to recognize the disease in its early stages is worse, leading to delay in treatment and therefore to higher morbidity and mortality. This problem is even more evident in patients with PV and CD because the diagnostic performance of echocardiography in these patients is lower...
Description
Tesis de la Universidad Complutense de Madrid, Facultad de Medicina, Departamento de Medicina, leída el 20/12/2018
Collections