Publication:
BRS symmetry versus supersymmetry in Yang-Mills-Chern Simons theory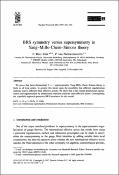 Advisors (or tutors)
Editors
Abstract
We prove that three-dimensional N=1 supersymmetric Yang Mills-Chem-Simons theory is finite to all loop orders, In general this leaves open the possibility that different regularization methods lead to different finite effective actions. We show that in this model dimensional regularization and regularization by dimensional reduction yield the same effective action. Consequently, the superfield approach preserves BRS invariance for this model.
Description
Copyright © 1997 Elsevier Science B.V. All rights reserved. We thank E Breitenlohner, J.W. van Holten, E De Jonghe and D. Maison for discussions
Citation
[1] For a superspace approach, see O. Piguet and K. Sibold, Renormalized supersymmetry - The perturbation theory of N = 1 supersymmetric theories in fiat space-time (Birkhauser, Boston, 1986). For theories in the Wess-Zumino gauge, without auxiliary fields, see P.L. White, Class. Quan. Gray. 9 (1992) 413; N. Maggiore, Int. J. Mod. Phys. A 10 (1995) 3781, 3937; N. Maggiore, O. Piguet and S. Wolf, Nucl. Phys. B 458 (1996) 403; Nucl. Phys. B 476 (1996) 329. [2] G. "t Hooft and M. Veltman, Nucl Phys. B 44 (1972) 189. [3]1 G. Giavarini, C.P. Martin and E Ruiz Ruiz, Nucl. Phys. B 381 (1992) 222. [4] W. Siegel, Phys. Lett. 84B (1979)193. [5] w. Siegel, Phys. Lett. 94B (1980) 37. [6] K. Hepp, Renormalization theory, in Statistical Mechanics and quantum field theory, ed. C. DeWitt and R. Stora (Gordon and Breach, New York, 1971). H. Epstein and V. Glasser, Ann. Inst. Henri Poincar6 XIX (1973) 21 1. [7] D. Maison, Renormalization theory, a short account of results and problems, in Renormalization of quantum field theories with non-linear field transformations, ed. P. Breitenlohner, D. Maison and K. Sibold (Springer, Berlin, 1988). [8] S.J. Gates Jr., M.T. Grisaru, M. Ro~ek and W. Siegel, Superspace or one thousand and one lessons in supersymmetry (Benjamin, Reading, 1983). W. Siegel, Nucl. Phys. B 156 (1979) 135. [9] J. Zinn-Justin, Renormalization of gauge theories, in Trends in elementary particle physics, Lectures Notes in Physics 37, ed. H. Rollnik and K. Dietz (Springer, Heidelberg, 1975). [10] P. Breitenlohner and D. Maison, Commun. Math. Phys. 52 (1977) 11. [11] G. Bonneau, Int. J. Mod. Phys. A 1989). M. Bos, Ann. Phys. 181 (1988)197. H. Osborn, Ann. Phys. 200 (1990) 1. [12] J.C. Collins, Renormalization (Cambridge University Press, Cambridge, 1987). [13] E.R. Speer, J. Math. Phys. 15 (1974) 1; Ann. Inst. Henri Poincar6 XXII (1975) 1. [14[ R. Pisarski and S. Rao, Phys. Rev. D 32 (1985) 2081. [15] A.J. Parkes and P.C. West, Phys. Lett. B 138 (1984) 99; Nucl. Phys. B 256 (1985) 340. D.R.T. Jones and L. Mezincescu, Phys. Lett. B 138 (1984) 293. A.J. Parkes, Phys. Lett. B 156 (1985) 73. D.R.T. Jones and A.J. Parkes, Phys. Lett. B 160 (1985) 267. [16] A.V. Ermushev, D.I. Kazakov and O.V. Tarasov, Nucl. Phys. B 281 (1987) 72. D.I. Kazakov, Phys. Lett. B 179 (1986)952. C. Lucchesi, O. Piguet and K. Sibold, Helv. Phys. Acta 61 (1988) 321; Phys. Lett. B 201 (1988) 241. C. Lucchesi, Finiteness in N = 1 SYM theories, hep-ph/9607368. [17] D.M. Capper, D.R.T. Jones and P. van Nieuwenhuizen, Nucl. Phys. B 167 (1980) 479. [18] S. Deser, R. Jackiw and S. Templeton, Ann. Phys. 140 (1982) 372. [19] A. Lerda and P. van Nieuwenhuizen, Phys. Rev. Lett. 62 (1989) 1217. [20] S. Deser and Z. Yang, Class. Quan. Gray, 7 (1990) 1603. B. Keszthelyi and G. Kleppe, Phys. Lett. B 281 (1992) 33. [21] C.P. Martin Phys. Lett. B 241 (1990) 513. [22] G. Giavarini, C.P. Martin and E Ruiz Ruiz, Phys. Rev. D 47 (1993) 5536; Phys. Lett. B 314 (1993) 328; Phys. Lett. B 332 (1994) 345. [23] J. Schonfeld, Nucl. Phys. B 185 (1981) 157. R. Jackiw and S. Templeton, Phys. Rev. D 23 (1981) 2291. [24] A. Blasi and R. Collina, Nucl. Phys. B 345 (1990) 472. E Delduc, C. Lucchesi, O. Piguet and S.P. Sorella, Nucl. Phys. B 346 (1990) 313. C. Lucchesi and O. Piguet, Nucl. Phys. B 381 (1992) 281. [25] N. Maggiore, O. Piguet and M. Ribordy, Helv. Phys. Acta 68
Collections