Publication:
Los procesos de formación de voto de los electores. Estudio de caso sobre renovación electoral en España del Partido Popular y del Partido Socialista (2010-2015)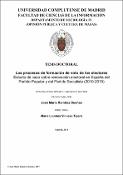 Advisors (or tutors)
Editors
Publisher
Universidad Complutense de Madrid
Abstract
Desde la llegada de la crisis económica de 2008, los sistemas políticos europeos no han sido los mismos. La crisis de las estructuras institucionales partidistas, con nuevos agentes fuera del establishment (antieuropeístas, euroescépticos, extrema derecha proteccionista… etc.) es consecuencia de los malos resultados de las dos familias clásicas: socialdemócratas y conservadores. En nuestro país, los efectos de la recesión han desalojado del poder al Gobierno de Rodríguez Zapatero y han costado numerosos votantes al Partido Popular. La confianza en las instituciones por parte de los ciudadanos ha disminuido enormemente; también las perspectivas de los mismos ante las respuestas de los partidos, y las nuevas necesidades económicas consecuencia del aumento del desempleo y de la pobreza en las antiguas clases medias. Esta tesis se centra en el nuevo panorama electoral de nuestro país, resultado de la crisis económica internacional, pero también de fuertes procesos internos que se habían estado gestando durante los últimos años, como el movimiento 15-M. Para ello, nuestro objeto de estudio apunta a estudiar los cambios del comportamiento electoral de los españoles, tras las transformaciones en el sistema de partidos de los últimos años (2010-2015). Más concretamente, en la renovación de voto, es decir, la confianza por la cual los votantes deciden apoyar de nuevo al partido cuatro años después. El estudio de la participación electoral en nuestro país es extensa y muy multidisciplinar. La proliferación de experiencias académicas y los análisis en revistas de investigación dan cuenta del interés por el comportamiento electoral de los votantes. Ahora bien, las investigaciones existentes no deberían ser concluyentes: al igual que los sistemas de partidos experimentan cambios estructurales, también las preferencias de los votantes sufren transformaciones. La investigación sociológica debe actualizarse continuamente para ir de la mano de los cambios que se produzcan en la esfera electoral...
Since the arrival of the 2008 economic crisis, European political systems have not been the same. The crisis of partisan institutional structures, with new agents outside the establishment (anti-Europeans, Eurosceptics, protectionist extreme right ... etc.) is a consequence of the bad results of the two classic families: Social- Democrats and Conservatives. In our country, the effects of the recession have dislodged the government of Rodriguez Zapatero from power and have cost numerous voters to the Popular Party. Confidence in institutions has declined enormously, but also to have the prospects of citizens for party responses to new economic needs, partly due to rising unemployment and poverty in the old middle classes. This thesis focuses on the new electoral landscape of our country; the result of the international economic crisis, and also strong internal processes that have been brewing in recent years, such as the 15-M movement. To this end, we have focused the object of study on the changes in the electoral behavior of Spaniards, following the transformations in the party system of the last years (2010-2015). More specifically, the purpose of the present investigation has been the renewal of voting, that is to say, the voters decide to support again the party to which they placed their trust in the last election. The study of electoral participation in Spain is extensive and very multidisciplinary. The proliferation of academic experiences and analysis in research journals reveals the interest in voters' electoral behavior as a sign of the health of existing democracy. However, we should not understand it as finalist processes: just as party systems experience structural changes, so voter preferences also undergo transformations. Sociological research must be continually updated to go hand in hand with changes in the electoral sphere...
Description
Tesis inédita de la Universidad Complutense de Madrid, Facultad de Ciencias de la Información, Departamento de Sociología VI (Opinión Pública y Cultura de Masas), leída el 01/06/2017
Collections