Publication:
Medida y clasificación de lentes oftálmicas de adición progresiva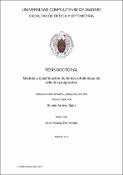 Files
Authors
Advisors (or tutors)
Editors
Publisher
Universidad Complutense de Madrid
Abstract
La estructura típica de una lente de potencia progresiva (LPP) tiene un área superior para la visión de lejos y una zona inferior para la visión de cerca. Estas zonas están unidas por un pasillo que incrementa la potencia. La variación de potencia origina regiones de aberración laterales. Existen multitud de LPPs en el mercado por lo que resulta bastante complejo determinar qué diseño puede funcionar mejor en cada usuario. Es necesario desarrollar una herramienta que sirva para cuantificar la distribución de potencia, comparar diseños y catalogarlos dependiendo de sus características. Sheedy fue pionero caracterizando lentes midiendo sus anchuras y áreas en lejos, intermedia y cerca mediante umbrales de potencia. También incluyó el máximo valor de astigmatismo. La potencia de la lente medida con un frontofocómetro (PF) coincide con la suma de las curvaturas de sus superficies. Una lente calculada de modo que su PF coincida con la potencia nominal se denomina lente clásica. Si la lente se optimiza de manera que la potencia percibida por el usuario (PU) coincida con la potencia nominal se denomina lente personalizada. La diferencia entre la PU y la PF depende de la prescripción, la curva base, la inclinación en la posición de uso y la ubicación de la superficie multifocal (frontal, posterior o repartida). La oblicuidad es el factor que más influye en esta diferencia. Para este trabajo se han realizado tres estudios diferentes con LPPs. De cada lente se obtuvieron los mapas de la PF y PU y se les aplicó el test de Sheedy...
The typical structure of a progressive power lens (PPL) has an upper area for distance vision and a lower zone for near vision. These areas are connected by a corridor that increases the power. This power variation causes lateral aberration regions. It is quite difficult to determine what design can work better in each user. We need to develop a tool that helps to quantify the distribution of power, compare and catalog designs depending on their characteristics. Sheedy was the pioneer in the characterization of the lenses by measuring their far, intermediate and near widths and areas using power thresholds. He also included the value of the maximum astigmatism. The power of the lens measured with a focimeter (FP) matches with the sum of the curvatures of its surfaces. A lens which is calculated so that its FP matches the nominal power is called classical lens. If the lens is optimized so that perceived power by the user (UP) matches the nominal power is called customized lens. The difference between the UP and FP depends on the prescription, the base curve, the tilt in the position of use and the location of the multifocal surface (front, back or splitted). The obliquity is the most influential factor in this difference. Three different studies have been done to characterize PPLs. FP and UP maps were obtained and the test Sheedy was run...
Description
Tesis inédita de la Universidad Complutense de Madrid, Facultad de Óptica y Optometría, leída el 25/09/2015
Collections