Publication:
Nuevos modelos animales para el estudio de la infección por "Neospora caninum" durante la gestación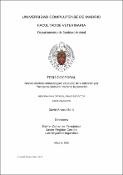 Files
Authors
Advisors (or tutors)
Editors
Publisher
Universidad Complutense de Madrid
Abstract
Neospora caninum es un parásito intracelular apicomplejo causante de la neosporosis, una enfermedad considerada como una de las principales causas de aborto en el ganado bovino. Esta parasitosis origina cuantiosas pérdidas económicas a nivel mundial, presentando una amplia distribución y una elevada prevalencia en el ganado bovino en la mayoría de países donde se ha estudiado. Actualmente, la inmunoprofilaxis se considera como la medida más importante para el control de la enfermedad, aunque, desafortunadamente, no existe una vacuna eficaz disponible. La única vacuna comercializada hasta el momento (Neoguard) ha sido retirada del mercado hace años debido a la baja eficacia mostrada. Por tanto, el esfuerzo de muchos grupos de investigación se centra hoy en día en el desarrollo de nuevas vacunas y fármacos eficaces y seguros frente a la neosporosis bovina. Con este fin, los modelos animales, además de ser de gran utilidad para estudiar la relación parásito-hospedador, la respuesta inmunitaria o la patogenia, son herramientas esenciales para realizar una evaluación adecuada de la eficacia y seguridad de vacunas y fármacos. Sin embargo, no existe un modelo normalizado, ya que aquellos descritos en la literatura se han llevado a cabo bajo condiciones experimentales muy variables. Estas diferencias incluyen, entre otras, la raza o estirpe de los animales empleados, el aislado de N. caninum, la manipulación del parásito para la inoculación, la vía de administración y la dosis utilizada en el ensayo. Además, en el caso de los modelos gestantes, el momento de la gestación en el cual se infecta a los animales supone una importante variable adicional. Por lo tanto, es necesario el desarrollo de modelos animales consensuados entre los diferentes laboratorios de investigación que permitan comparar y validar los resultados obtenidos en cada uno de ellos...
Neospora caninum is an apicomplexan protozoan parasite considered to be one of the main causes of abortion in cattle worldwide. It shows a high prevalence and produces important economic losses as a consequence of the reproductive failure triggered by infection during pregnancy or recrudescence. To date, immunoprofilaxis is considered the best control strategy against the disease. Unfortunately, there are no current drugs or vaccines available in the market against Neospora, since the only vaccine commercialised so far (Neoguard) was withdrawn from the market on account of the low efficacy shown. Therefore, a large amount of research focuses its efforts on the development of new candidates that may be effective in protecting against abortion and vertical transmission. For this purpose, animal models, besides being of great utility for the study of parasite-host relationship, immune responses or pathogenesis, are essential tools for performing an appropriate assessment of the efficacy and safety of vaccines and drugs. However, there is not a normalized model of neosporosis, since the models described in the literature differ in the experimental designs employed. These include, among others, the strain or breed of animals used, the N. caninum isolate, the parasite manipulation for infection, route of administration and dose. Besides, for pregnant models, the time of gestation when infection takes place implies an important additional variable. All of this leads to a high degree of variability, rendering meaningful comparison of results from different laboratories a difficult task. Therefore, the elaboration of common models achieving a consensus among different laboratories is necessary, so as to permit comparison and validation of results obtained in each one of them...
Description
Tesis inédita de la Universidad Complutense de Madrid, Facultad de Veterinaria, Departamento de Sanidad Animal, leída el 13/01/2016. Tesis formato europeo (compendio de artículos)
Collections