Publication:
La rehabilitación de contratos de financiación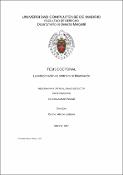 Files
Authors
Advisors (or tutors)
Editors
Publisher
Universidad Complutense de Madrid
Abstract
This doctoral thesis is on the reinstatement of financing agreements, as a sui generis mechanism for post-commencement finance foreseen by the spanish legislator in Section 68 of Insolvency Act 22/2003, of 9 July. It is a mechanism which, nowadays, clearly meets the same legislative policy aim as the few other instruments and stable sources of post-commencement finance provided for in our insolvency legislation, such as fresh money and distressed debt, which attempt to facilitate the continuity of the insolvent party's professional or business activity, in the interest of greater creditor satisfaction as the main purpose of insolvency proceedings. Thus, the subject-matter of this doctoral thesis is framed within a topic of utmost interest and unquestionable importance, such as that of post-commencement finance, as it is an indispensable instrument in insolvency proceedings and a possible solution to the obvious lack of fulfilment of the latter's essential aim and, therefore, to its spectacular failure, where an extremely high percentage (95%) of companies declared insolvent end up going into liquidation and ordinary creditors' recovery expectations are estimated at a meagre 50% average of the nominal value of these credits. Surprisingly enough, in spite of its unquestionable importance, the treatment of post-commencement finance has remained on the sidelines of the movement for the reform of our insolvency regulations and, to a large extent, of the focus of discussions held in this regard. Nowadays, it is still largely ignored by our legislator whose responsibility now, following the recommendations of different international bodies, such as the United Nations Commission on International Trade Law (hereinafter referred to as UNCITRAL), the International Monetary Fund (referred to as the IMF) and the World Bank (referred to as the WB), and, in keeping with practices in other world-leading legal systems, such as that of the United States, is to unavoidably and urgently undertake the arduous task of expressly, efficiently and flexibly regulating this matter...
Description
Tesis inédita de la Universidad Complutense de Madrid, Facultad de Derecho, Departamento de Derecho Mercantil, leída el 17-12-2015
Collections