Publication:
The Microfinance Sector in Mediterranean Europe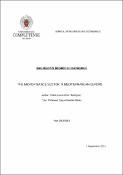 Authors
Advisors (or tutors)
Editors
Abstract
This Bachelor's Thesis is intended to offer a global overview of the microfinance sector in Mediterranean Europe paying particular attention to Portugal, Italy and Spain, as they have been three of the countries hardest hit by the global 2008 economic crisis. This paper also provides an analysis of the main microfinance providers in the said three countries, their microcredit lines, finance conditions and the evolution of the number and total value of microcredits that they have granted from 2008 to 2011. Finally, a cross-country comparison of the total value of microcredits granted by these microfinance institutions is also established.