Publication:
Las mentalidades en el concepto y vida de la mujer. Ejemplo: La Mancha en el siglo XVIII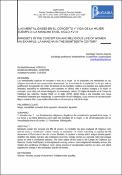 Advisors (or tutors)
Editors
Publisher
Asociación Castellano-Manchega de Sociología
Abstract
Las mentalidades explican el concepto y vida de la mujer. Se ha analizado una mentalidad de raíz religiosa derivada de una cosmovisión denominada "de la sociedad de la expiación" en la que todo se justifica por la expiación de Cristo del pecado de los hombres, explica una sociedad que asigna bienes deseados, estratifica en estamentos, pero también en oficios viles e incluso reasigna a la mujer un concepto, unos roles y el acceso desigual a lo considerado valioso. El objeto de estudio es el Campo de Calatrava (La Mancha, Ciudad Real) en el siglo XVIII, donde llega a esa sociedad una nueva mentalidad ilustrada que resquebraja la cosmovisión de raíz religiosa, cuyo proceso de secularización llega a nuestros días, y que explica el cambio en el concepto y vida de la mujer.
Mindsets explain the concept and life of women. A mentality has been analyzed of religious roots derived from a "worldview" called "society of atonement" in which everything is justified by the atonement of Christ due to the sin of men. Besides, it explains a society which assigns desired goods, stratifies into estates, but also vile professions and even, remaps women as a concept, roles and unequal access to what is considered valuable. The main object of this study is the Campo de Calatrava (La Mancha, Ciudad Real/Spain), in the eighteenth century, where a new enlightened mentality arrives, that shatters the worldview of religious roots, whose process of secularization reaches our days, and which explains the change in the conception and life of women.
Collections