Publication:
Clasificación supervisada para consulta temática en Twitter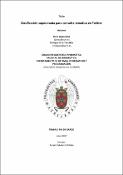 Advisors (or tutors)
Editors
Abstract
Diariamente, la plataforma de microblogging Twitter genera una cantidad de información abrumadora. Es expresada en mensajes de 140 caracteres conocidos como tweets. Twitter permite buscar tanto tweets de usuarios concretos como tweets que contengan términos específicos, pero no permite la búsqueda temática, es decir no permite agrupar los mensajes bajo epígrafes generales. Con este TFG hemos querido plantear una solución que facilite la búsqueda temática en Twitter. Nuestra propuesta es capaz de descargar tweets y agruparlos bajo diferentes categorías dándole una utilidad a los tweets más allá de su propio contenido, pudiendo realizar búsquedas por temáticas, facilitando la experiencia al usuario. Como caso de uso, nos centramos en el caso de búsqueda temática sobre una ciudad. Para la clasificación en categorías, es necesario realizar primero una categorización de forma manual para que posteriormente mediante técnicas de aprendizaje automático se realice una clasificación de forma automática. Para la clasificación automática, hemos utilizado la técnica de aprendizaje supervisado basada en el Teorema de Bayes, que deduce mediante entrenamiento y validación a qué categoría puede pertenecer un tweet. El usuario finalmente podrá filtrar toda esta información en función de las categorías creadas, fechas y palabras clave que contenga el tweet.
Daily, the Twitter microblogging platform generates an overwhelming amount of information. It is expressed in messages of 140 characters known as tweets. Twitter allows you to search for specific tweets of users as well as tweets that contain specific terms, but does not allow thematic search, as it does not allow grouping of messages under general headings. With this project we wanted to propose a solution that facilitates thematic search on Twitter. Our proposal is to enable tweets to be downloaded and to group them under different categories giving a utility to the tweets beyond their own content, being able to perform searches by themes, this facilitating the user experience. As a case study, we focus on the thematic search about a city. For the classification, it is necessary to previously carry out a manual categorization, so that with machine learning techniques the classification is performed automatically. For automatic classification, we used the supervised learning technique based on the Bayes Theorem, which deducts through training and validation to which category a tweet may belong. The user will finally be able to filter all this information according to the created categories, dates and keywords that the tweet contains.
Description
Trabajo de Fin de Grado en Ingeniería Informática (Universidad Complutense, Facultad de Informática, curso 2016/2017)